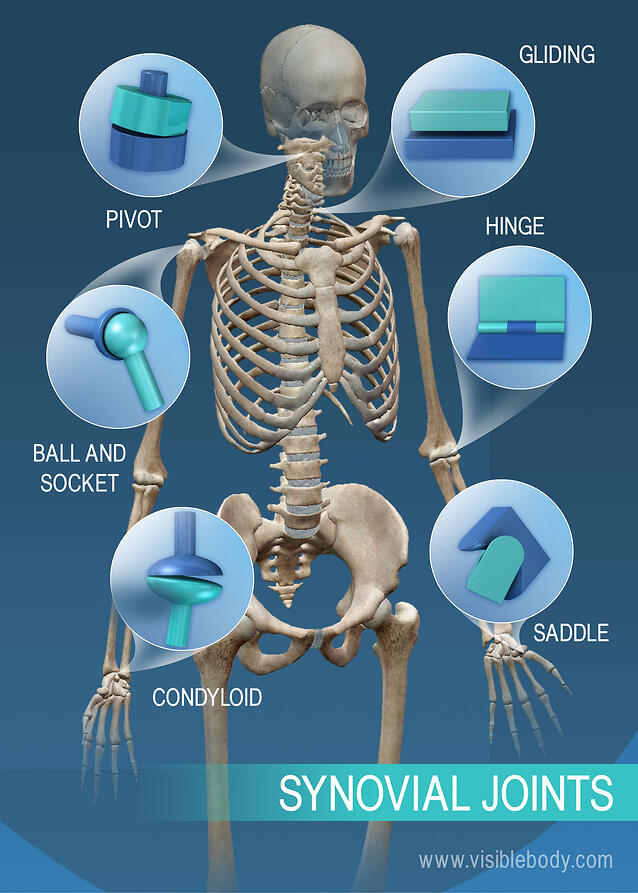 Synovial Joints. Synovial joints are characterized by the presence of an articular capsule between the two joined bones. Bone surfaces at synovial joints are protected by a coating of articular cartilage. Synovial joints are often supported and reinforced by surrounding ligaments, which limit movement to prevent injury. There are six types of synovial joints:
(1) Gliding joints move against each other on a single plane. Major gliding joints include the intervertebral joints and the bones of the wrists and ankles.
(2) Hinge joints move on just one axis. These joints allow for flexion and extension. Major hinge joints include the elbow and finger joints.
(3) A pivot joint provides rotation. At the top of the spine, the atlas and axis form a pivot joint that allows for rotation of the head.
(4) A condyloid joint allows for circular motion, flexion, and extension. The wrist joint between the radius and the carpal bones is an example of a condyloid joint.
(5) A saddle joint allows for flexion, extension, and other movements, but no rotation. In the hand, the thumb's saddle joint (between the first metacarpal and the trapezium) lets the thumb cross over the palm, making it opposable.
(6) The ball-and-socket joint is a freely moving joint that can rotate on any axis. The hip and shoulder joints are examples of ball and socket joints.