3. The Brain Stem Relays Signals Between the Brain and Spinal Cord and Manages Basic Involuntary Functions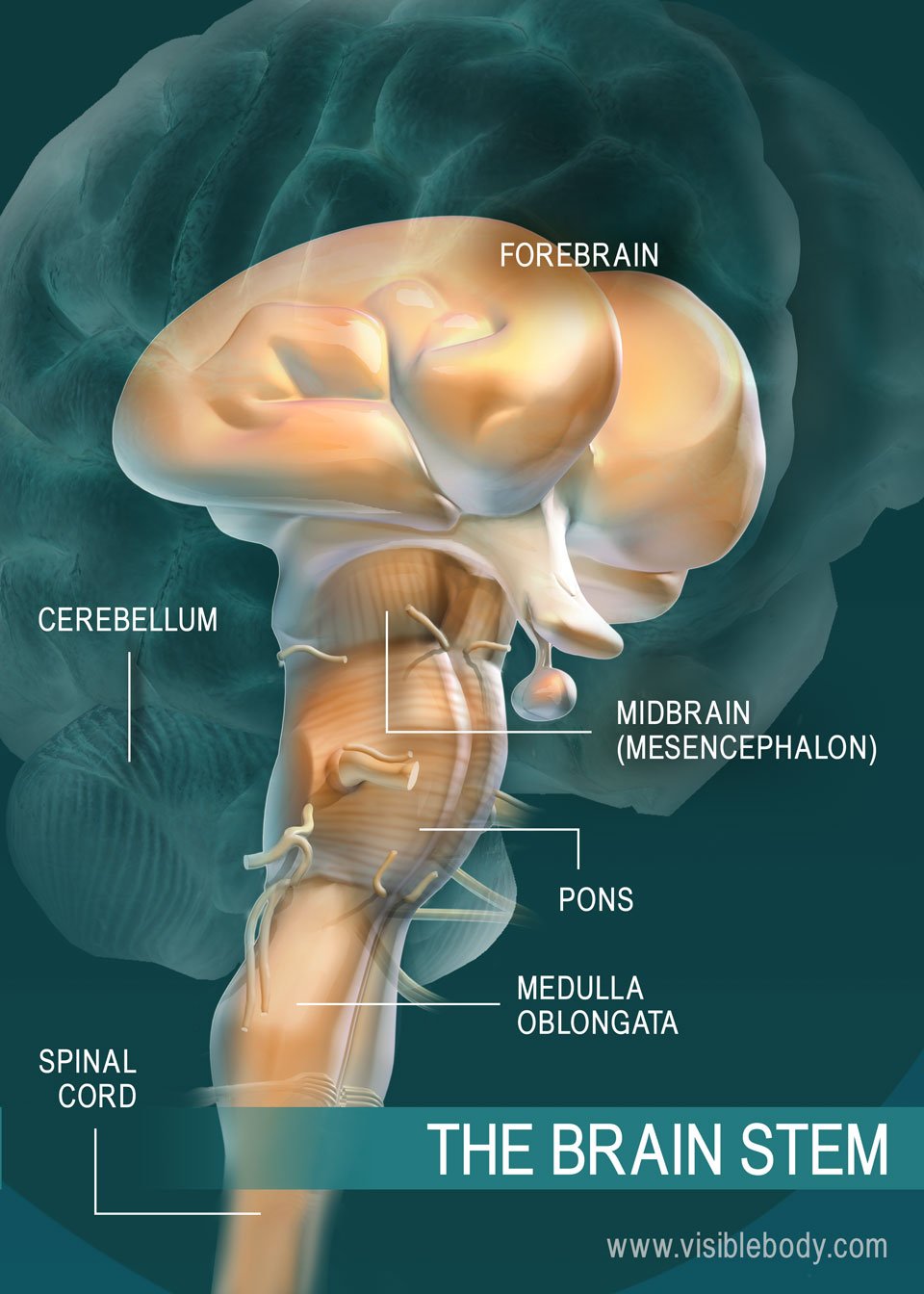 The brain stem connects the spinal cord to the higher-thinking centers of the brain. It consists of three structures: the medulla oblongata, the pons, and the midbrain. The medulla oblongata is continuous with the spinal cord and connects to the pons above. Both the medulla and the pons are considered part of the hindbrain. The midbrain, or mesencephalon, connects the pons to the diencephalon and forebrain. Besides relaying sensory and motor signals, the structures of the brain stem direct involuntary functions. The pons helps control breathing rhythms. The medulla handles respiration, digestion, and circulation, and reflexes such as swallowing, coughing, and sneezing. The midbrain contributes to motor control, vision, and hearing, as well as vision- and hearing-related reflexes.
4. A Sorting Station: The Thalamus Mediates Sensory Data and Relays Signals to the Conscious Brain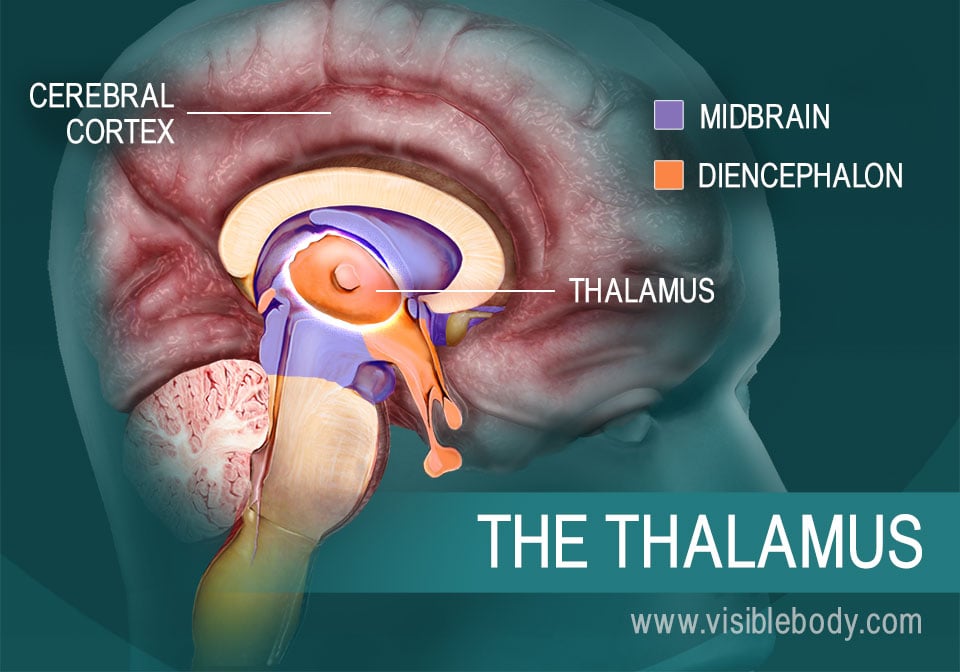 The diencephalon is a region of the forebrain, connected to both the midbrain (part of the brain stem) and the cerebrum. The thalamus forms most of the diencephalon. It consists of two symmetrical egg-shaped masses, with neurons that radiate out through the cerebral cortex. Sensory data floods into the thalamus from the brain stem, along with emotional, visceral, and other information from different areas of the brain. The thalamus relays these messages to the appropriate areas of the cerebral cortex. It determines which signals require conscious awareness, and which should be available for learning and memory.
5. The Hypothalamus Manages Sensory Impulses, Controls Emotions, and Regulates Internal Functions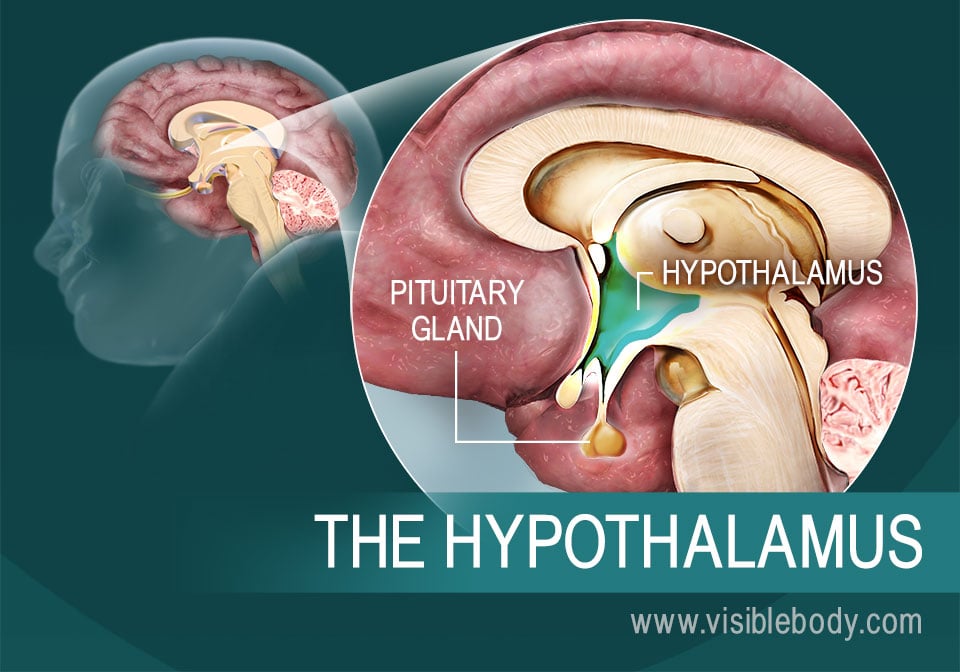 The hypothalamus is part of the diencephalon, a region of the forebrain that connects to the midbrain and the cerebrum. The hypothalamus helps to process sensory impulses of smell, taste, and vision. It manages emotions such as pain and pleasure, aggression and amusement. The hypothalamus is also our visceral control center, regulating the endocrine system and internal functions that sustain the body day to day. It translates nervous system signals into activating or inhibiting hormones that it sends to the pituitary gland. These hormones can activate or inhibit the release of pituitary hormones that target specific glands and tissues in the body. Meanwhile, the hypothalamus manages the autonomic nervous system, devoted to involuntary internal functions. It signals sleep cycles and other circadian rhythms, regulates food consumption, and monitors and adjusts body chemistry and temperature.