Like animal cells and other eukaryotic cells, plant cells have a nucleus that stores their DNA. However, plant cells differ from animal cells in several important ways. First, unlike animal cells, plant cells have a cell wall, which is very different from prokaryotic cell walls. Plant cell walls have channels called plasmodesmata (sg. plasmodesma) that allow cells to communicate by passing sugars, ions, and even proteins and RNA from one cell to another.
Animal and plant cells both have mitochondria. Mitochondria use glucose and oxygen to carry out cellular respiration and create ATP, a molecule that powers processes throughout the cell. In addition to mitochondria, plant cells also have special structures called chloroplasts that are essential to the process of photosynthesis. In this process, plants use light, water, and carbon dioxide to produce glucose, which can later be broken down by cellular respiration.
Did you know that mitochondria and chloroplasts have their own DNA, separate and distinct from the DNA in the nucleus?
Another structure that is present in plant cells, but not in animal cells, is the central vacuole. In plant cells, central vacuoles are used to maintain turgor pressure by keeping the large vacuole filled with water to support the cell.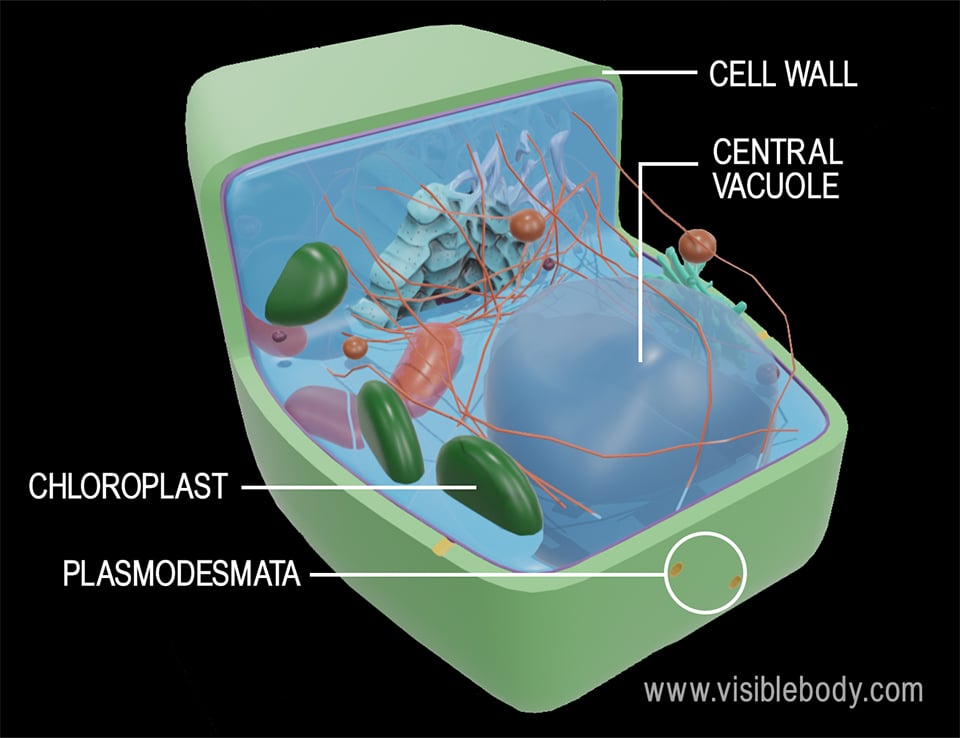 4. A quick comparison of plant and animal cells
Here are the structures that are unique to animal cells, contrasted with the ones that are unique to plant cells:
In Animal Cells Only

In Plant Cells Only

Centrosomes
Centrioles
Cell wall
Central vacuole
Chloroplasts
Plasmodesma