Why Visible Body Is a Great Match for Career and Technical Education Programs
Posted on 10/14/22 by Sarah Boudreau
Health sciences is the most popular track in career and technical education (CTE) programs in high schools across the United States, and many CTE instructors and administrators are on the hunt for ways to deliver course content in ways that go beyond basic lectures and rote memorization.
Visible Body's signature interactive 3D models are used in classrooms all over the globe, but they're particularly exciting for CTE classes. Visible Body gives students the anatomy, physiology, pathology, and basic biology knowledge they need to succeed in their future careers in the health sciences, delivered in engaging 3D!
The augmented reality feature in the Visible Body Suite mobile app.
In this blog post, we'll go over some of the many reasons why Visible Body's Courseware product is a great fit for your CTE program. Courseware comes packed with interactive 3D content, animations, histology slides, and more, and it allows instructors to create their own custom assignments using the models. Courseware can be used as a standalone LMS or integrated with Blackboard or Canvas.


Interactive learning
One reason students love CTE programs is because they thrive on hands-on learning. When learning subjects like anatomy and physiology, however, it can be difficult to give students hands-on learning experiences without, say, an expensive cadaver lab. Good news: interactive learning is what Visible Body does best!
With the web and mobile apps apps available through Courseware, students can manipulate and explore 6,000 different structures. Using the draw tool, they can annotate the models with drawings, arrows, circles, and more.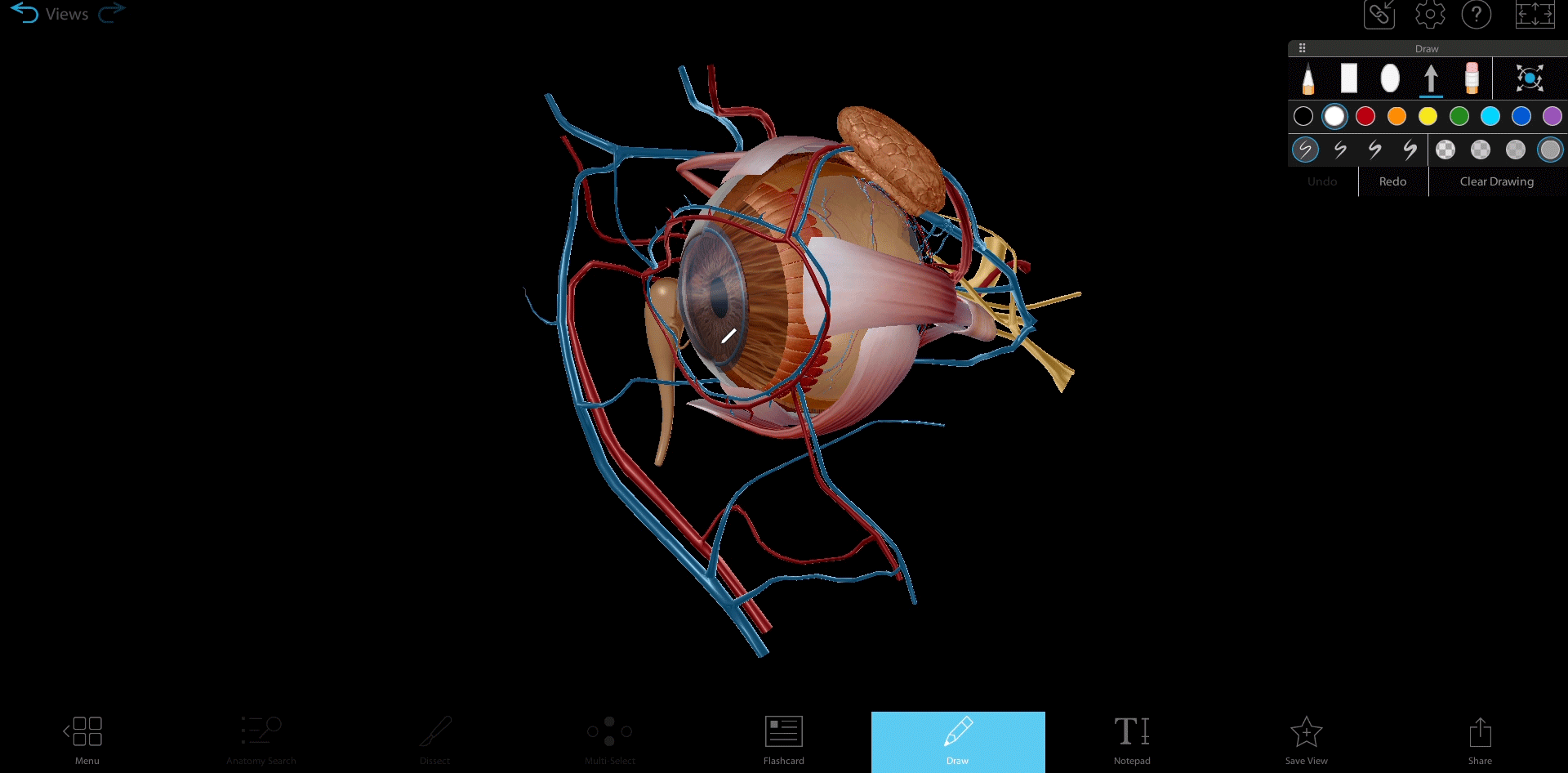 Draw tool in Visible Body Suite.
With Courseware, each student also receives access to the VB Suitemobile app, so they can study on the go. The VB Suite mobile app's augmented reality (AR) feature encourages students to get out of their seats and explore structures. There's been a ton of research about AR's relationship with medical education, and the gist is this: AR gets students engaged, resulting in increased motivation, better attention, and better learning outcomes.
The interactivity doesn't stop there. Students can create interactive Tours, which are linked, custom views perfect for presentations, and can construct shareable Flashcard Decks as a study resource. Students can even take quizzes in 3D, dissecting away structures to reach the correct answer.

Students learn better with Visible Body
Many instructors have noticed that their students get higher grades with Visible Body products—Dr. Cindy Harley of Metropolitan State University calls this "The Visible Body Effect."
Not only were students less likely to withdraw, but Dr. Harley's students' grades rose significantly after she switched her courses from textbooks to Visible Body.
"I saw a 10% rise in my As, an 8% rise in my Bs, and a 6% decrease in Cs. What this means is those D and F students are moving up to Cs, the Cs are moving up to Bs, and a lot of those Bs are moving into that A range," Dr. Harley said.
She decided to investigate this further, reaching out to five other instructors at five different institutions to gather data on what their students' grades were like before and after switching to Visible Body. In the end, she analyzed the grades of 362 students and found that after instructors switched from a textbook to Visible Body, 19% more students received As! In total, grades went up an average of 6.65%.
LaTrobe University in Victoria, Australia observed a similar increase in grades after they adopted Visible Body program-wide. LaTrobe's second-year anatomy course enrolls over 4,000 health sciences, exercise physiology, and premed students each year, and they use Visible Body products to complement labs and reinforce information.
As one student noted, "It's very helpful as it's more interactive and better than just reading from a textbook."
The graph below spells it out clearly: after adopting Visible Body in 2019, students performed better.
Image from Aaron McDonald and Heath McGowan's webinar on July 13, 2021.
These findings have been backed up by research by others studying interactive 3D models and education. Research indicates that learning methods that connect to spatial skills can result in higher testing scores. Additionally, visualization through 3D models can help students retain information for longer, in part because manipulating the 3D models uses sensory memory.


Visible Body prepares students for their future careers
Another major reason students are drawn to CTE programs is because they want to be ready for the workplace. Visible Body's products are used by healthcare professionals across the globe for reference, to refresh their memory, and to communicate with patients. It can be challenging for patients to understand their diagnoses, but professionals use Visible Body's apps to help them visualize what's wrong. For example, physical therapists show patients interactive 3D muscle actions to help them understand treatment.
Teachers can assign creative activities that challenge students to apply their knowledge to their future careers. For example, one CTE teacher prepares high school juniors for their EKG certification exams by using the interactive beating heart model in Courseware. He manipulates the controls to adjust BPM, show the movement of electrical impulses through the heart, and show a graph of electrical activity as the heart beats—and according to him, students taught with this model have a higher passing percentage on their certification exams.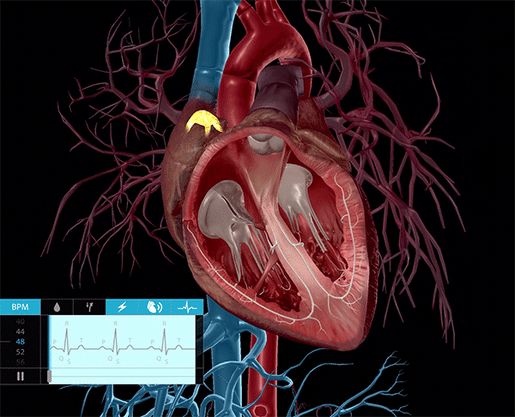 Beating heart model available in Physiology & Pathology, an app available in Courseware.


Visible Body supports instructors
Visible Body is dedicated to supporting instructors and students, and it shows. Our customers rave about our customer service and support! Visible Body's Customer Engagement Team offers one-on-one training sessions that are customized to the individual's needs and goals. Visible Body also offers frequent webinars and an "office hours" series to support and encourage customers.
That's not all the ways Visible Body supports instructors. We have a wealth of free teaching and learning resources that can be easily added to Courseware accounts. This includes:
Want to make your own course materials? You can use premade content as a foundation and customize your course, or you can start from scratch. Courseware makes it easy to build and customize your courses.


What do CTE instructors have to say about Visible Body?
Let's hear from two CTE instructors who have used Visible Body in their classrooms to get their CTE students excited about learning.


Richard Mantrana, lead instructor at Southwest Miami Senior High School's Health Science Medical Assistant Academy
Richard Mantrana and other instructors at Southwest Miami Senior High School's Health Science Medical Assistant Academy use Courseware to break up content into bite-sized lessons.
Mantrana presented a webinar sponsored by the National Association of Biology Teachers in which he talked about several ways Visible Body Courseware has enhanced his students' educations.
"This may sound a little corny or cliché, but if it weren't for Visible Body, the year and a half of Zoom instruction we all had could have easily gone in a very different direction. I can honestly say that this app not only allowed my students and me to remain on pace, but I also noticed a rise in their comprehension, grades, not to mention a considerable rise in my mid- and end-of-year assessments. You know, sometimes we as educators fall into a bit of a routine which in turn brings about boredom at work that leads to a lack of interest by the students. But using this app and all it offers allows you to have fun while being creative—and not to mention lets you look like the most knowledgeable and cool teacher in school," he said.
"The augmented reality that's found in the app is a fan favorite for all my students. They absolutely love using it and even show it off to their family and friends, believe it or not. It is especially liked by students with 504s. The need to stop instruction and redirect students becomes almost nonexistent when using the app; students remain focused and engaged. I promise you, you would, too!
"We think about it as a way for the students to take the lab home with them, or anywhere, if they're spending time after school in the library or they have an after-school program where they go to do homework, they have [VB Suite] basically in the back of their pocket anywhere they go."


Sheena Shoemaker, former A&P instructor at Maize Career Academy in Maize, Kansas
While teaching anatomy and physiology to high school juniors and seniors, Sheena Shoemaker used Visible Body's Human Anatomy Atlas for zSpace, a technology that allows students to navigate materials using kinesthetic learning in augmented/virtual reality. Her classroom featured both physical, plastic models of structures and the zSpace devices, and when given the choice, her students almost always chose to access Visible Body using zSpace.
In a presentation at the National Health Science Conference, Shoemaker talked about how using Visible Body in AR/VR enhanced her classroom.
"Does augmented reality really help students prepare for the real world, or is it just a game to entertain them? I've had multiple teachers ask me this, especially as veteran teachers where augmented reality is a new thing that we didn't have when we went to school. And when we hear that word, 'augmented' or 'virtual reality,' we often think of video games," she said.
She then explained that more and more health professionals are using 3D imaging and AR/VR apps. "I really want to help my students to be workforce ready, and with a lot of our workforce moving towards 3D and augmented or virtual reality, it's important that we start incorporating that into our curriculum so that our students have that hands-on experience with these types of technologies."
"I can definitely vouch for the fact that Human Anatomy Atlas and zSpace really allowed my students to study in less time and more accurately because of how good the visuals are. I didn't have to reinvent the wheel. I didn't have to make new lesson plans or change how I taught. I just simply taught the students how to use the zSpace, how to use the app, and they were able to then use that in their study time to make things more accurate and quicker for them. It gives them the tools to explore, so it really alleviated the amount of time they had to wait for me to work myself around and help them out.
And a very huge takeaway also to this is that their test scores drastically increased. We had a 12% improvement on the muscular and skeletal system lab exams in my classroom; after I got zSpace with Human Anatomy Atlas we went from 77.8% to 89.7% on unit lab exams from a couple years before to the first year that I had these in my room. That's a big blessing for students, and it lets us know that many of our students are visual learners. And so when you're given a tool that allows them to see better and learn better and memorize better, it's going to help them academically."


Experience "The Visible Body Effect" for yourself!
With a free Courseware instructor code, you can try out all the goodies Visible Body has to offer. Filling out this quick form will get you in contact with our education team and will set you up with a free trial of Courseware.
Not ready for a trial yet? Here are some blog posts you should check out!
---
Be sure to subscribe to the Visible Body Blog for more awesomeness!
Are you an instructor? We have award-winning 3D products and resources for your anatomy and physiology course! Learn more here.