La Trobe University: Visible Body in Higher Education Anatomy Teaching
Posted on 7/30/21 by Laura Snider
In 2019, Aaron McDonald and Heath McGowan of La Trobe University, Victoria, Australia adopted Visible Body in the second-year anatomy courses that over 4,000 health sciences, exercise physiology, and pre-med students take every year. They collected data about students' grades before and after Visible Body was implemented (2018 vs 2019) and surveyed both students and instructors about their experiences teaching and learning with Visible Body. Best of all, they were kind enough to share this data with us and answer questions from fellow instructors in a Visible Body Webinar!
You can watch the recording of that webinar below.
Read on for highlights from their presentation.
1. Multiple resources, including 3D models, enrich students' experience
At La Trobe University, more than 4,000 students take anatomy every year. To help them learn, they have access to a variety of resources, such as textbooks, lab manuals, models, medical imaging, plastinated sections, and cadavers. In 2019, Aaron and Heath added digital technology—in the form of Visible Body's 3D models—to that list.

Why add 3D models to an already extensive collection of resources? Aaron and Heath's attitude is that the more (good quality) resources students have access to, the better. Students can use the ones that suit their learning style best. 3D models in particular are great to have for learning anatomy because they show spatial relationships between structures and allow students to learn by scaffolding.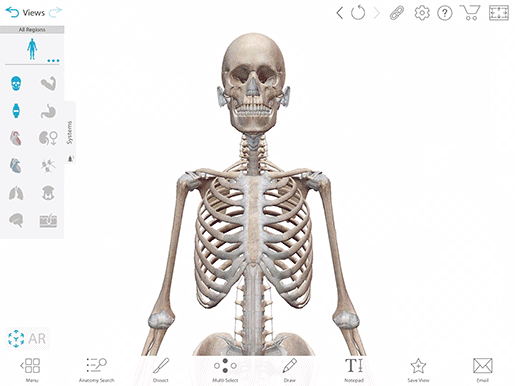 You can use the systems tray in Human Anatomy Atlas to add and remove whole systems one at a time.
With a product like Visible Body, students can have the added benefit of being able to access the 3D materials outside the classroom and work through information at their own pace.
Throughout their presentation, Heath and Aaron stressed that Visible Body was not intended to replace traditional labs (dissections, plastinated sections, and so on), but to complement them. As an example, they mentioned that students can reinforce what they learn in the lab by using VB as a reference tool in the lab and then a study tool with the same visuals at home.
2. Students' grades improved with Visible Body
Overall, students' response to Visible Body was positive in the survey. Of the 101 who responded, 89% of them said they used the app. Only 19% of them said they would rather return to a traditional textbook. One student noted that "It's very helpful as it's more interactive and better than just reading from a textbook." Another said that VB was "Easy to use, portable, can study anywhere, [and] gives a 3D image which is great."

Students didn't just find Visible Body enjoyable to use—it also boosted their grades! On an assignment that was kept consistent between 2018 (before Visible Body) and 2019 (when Visible Body was used), students scored higher with Visible Body. Likewise, final exam grades were higher in 2019 and so were students' end-of-semester grades. These results are summarized in the images below, taken from the presentation.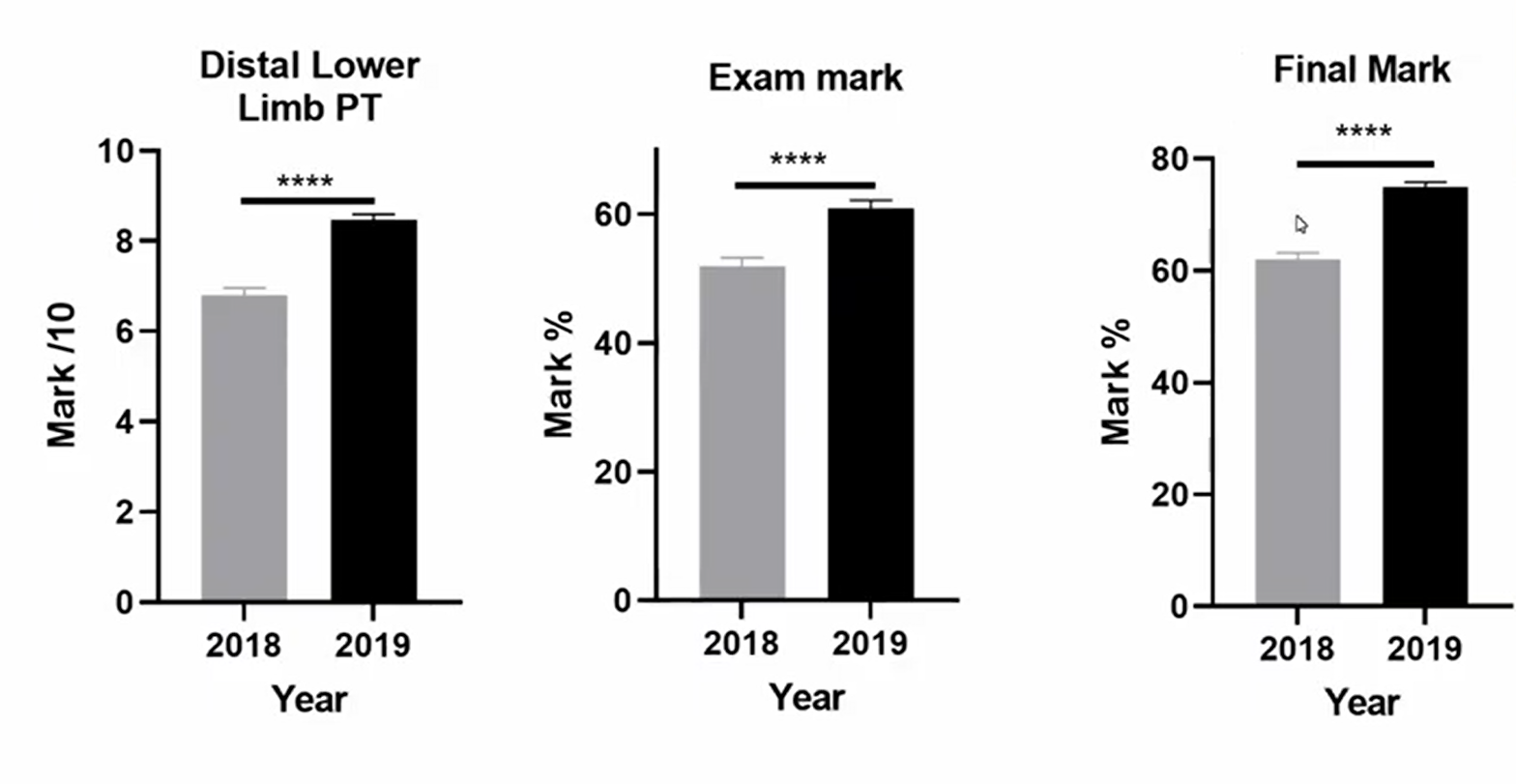 This image is from Aaron McDonald and Heath McGowan's presentation webinar, July 13, 2021.
3. Communication and training with instructors is key
One of the big lessons Heath and Aaron learned from the adoption of Visible Body at their institution is that staff communication, willingness, and (technological) ability play a huge role in the success of implementing 3D anatomy resources within a department.
Communication with staff involves establishing an understanding of the goals of incorporating the new resource. Based on what staff in their department said about their experience using Visible Body in 2019, Aaron and Heath reflected that they wished they had been clearer in communicating their goals—providing a resource complementary to plastic models and cadavers, helping students consolidate complex concepts through using multiple resources, and facilitating a classroom environment where students learn through interaction and problem solving.
Staff willingness to use a resource is vital to that resource's implementation. Essentially, what Aaron and Heath found was that if instructors buy in and model use of the resource, students will, too. If a 3D resource like Visible Body is incorporated into the curriculum both inside and outside of class, students will be less likely to see it as a gimmick and more likely to actually use it themselves.
Some teachers might feel anxious about their ability to use new technology—training resources are a good answer to this, and they can benefit students as well. The real issue is getting instructors and students to use the training materials. Aaron, Heath, and one of the Masters students in their department created an introductory document and video for instructors.
Visible Body also offers lots of tutorials for students and instructors on our Support Site. Our Webinars and Office Hours videos can also help instructors learn how to use our products in their classes.
4. Visible Body made the switch to online teaching a lot smoother
When schools had to shift to online teaching and learning in 2020, the anatomy instructors at La Trobe University were already using Visible Body. Aaron and Heath said this made the transition to online instruction easier because Visible Body has several features that make it a great option for online teaching.
Student engagement is an issue many instructors have with online teaching. With Visible Body, students can stay involved and engaged with what's going on in a physical classroom or an online one.
Screen sharing is easy on Zoom, and students can be asked to answer questions using annotations.
Instructors can give instant feedback and both students and instructors can label structures quickly and easily with the Tags feature.
Another benefit is that with VB, students can use the same resource at home as they do in class.
Aaron and Heath also showed how Visible Body's models make it easy to present various structures. They compared screen sharing 3D models to drawing on a whiteboard in front of the camera, showing a plastic model using the camera, and sharing illustrations. With 3D models, they could bring up the structures they needed faster, more clearly, and with only the information (annotations, labels, etc.) they wanted to show.
If you're not teaching online anymore, these techniques are great for a "flipped classroom" too! Students can still screen share to ask and answer questions. They can also prepare 3D Views and Tours before class and use them in presentations.
We would like to once again thank Aaron and Heath for sharing the results of their study with us! If you're interested in reading about another study that shows how Visible Body's 3D visuals help students succeed, check out this blog post.
---
Be sure to subscribe to the Visible Body Blog for more anatomy awesomeness!
Are you an instructor? We have award-winning 3D products and resources for your anatomy and physiology course! Learn more here.