Make Life Sciences Classrooms More Inclusive by "Shaking Up" Assessment
Posted on 11/4/22 by Sarah Boudreau
Click the play button to listen to an audio version of this blog post!
Traditional assessment methods aren't a one-size-fits-all fix—classrooms from K-12 to higher education have noticeable achievement gaps between demographics.
For example, higher education sees a big gap in completion rate: Black and Hispanic students are far less likely to complete their degrees than white and Asian students. In STEM majors and careers, women drop out at higher rates than their male peers.
With higher ed enrollment dipping, it's clear there's a problem.
As Kevin Gannon points out in the Chronicle of Higher Education, "Both students of color and our own colleges and universities, then, are ill-served by the status quo."
But how can we shake up the status quo while still holding students to the same high standards of learning?
One way to do that is through alternative assessment. Alternative assessment refers to methods of assessing students' knowledge through tools that are not exams or papers. For topics that require a lot of memorization of terms, like anatomy and physiology or biology, it may seem like a challenge to assess students outside of a traditional test. In this blog post, we'll discuss alternative assessment methods and outline a couple methods to use in your classroom.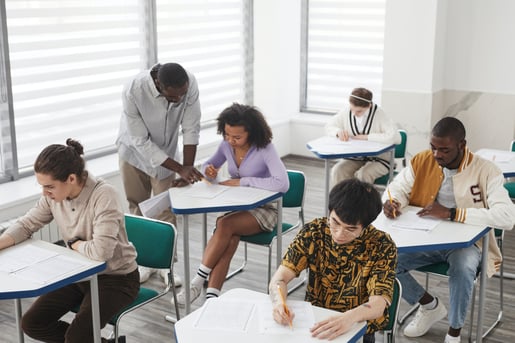 Photo by Andy Barbour via Pexels.
Pushing Back Against the Big Exam
Traditionally, a course has a midterm and a final that are worth a considerable percentage of the student's final grade. But are these exams actually hurting some students' grades?
To answer that, let's dive into a 2017 paper by researchers at the University of Minnesota, "Can mixed assessment methods make biology classes more equitable?"
The authors cite a study of courses at the University of Michigan that found that there's a big gender gap on performance in STEM class exams, but not on smaller assignments like homework and quizzes. They posit that this is at least in part due to text anxiety and gender: women who experience test anxiety get worse scores regardless of their preparation.
To investigate this, the authors looked at about 1400 students across 9 non-major, introductory biology classes at a large university. They also looked at several cases where biology classes (ranging in level) had changed their grading scheme; for example, in one class, exams went from 28% to 44% of the total grade.
Their findings didn't match up with the University of Michigan findings in regards to women performing better with smaller assignments, but they did find something quite interesting: the bigger the test, the more women underperformed compared to men.
"By incentivizing students to participate through mixed methods of assessment (a key feature of active learning), we reward consistent, ongoing preparation rather than performance on a few high-stakes examinations. In fact, modifying the value of exams in order to lower risk improves female performance on these exams, underscoring the fact that for some individuals, performance on exams may not reflect a student's actual content knowledge," the authors wrote.
The traditional course structure of a comprehensive, heavily-weighted exam isn't suitable for all students, and this structure can alienate and discourage students from underrepresented groups.
Moreover, traditional assessments are often inflexible. As the authors of this 2018 paper so succinctly put it, "Current assessment practices promote unrealistic expectations of certainty, provide little or no practical preparation for future learning, and discourage the embrace of ambiguity and creativity."
Because of this, many instructors have found that traditional exams don't fully reflect their goals for their students.
Dr. Cindy Harley, associate professor of biology at Metropolitan State University, discovered this while shifting her anatomy and physiology classes online in 2020.
"I want them to take these big ideas, distill them into the most important concepts, and then link these concepts together, and I want them to organize the information in their brain," Dr. Harley said.
After some reflection, Dr. Harley came to the conclusion that traditional exams don't evaluate the skills she wants her students to learn, so she explored other ways to evaluate her students.


Why Alternative Assessment?
One of the major drawbacks of traditional exams is that they encourage students to memorize information with little regard for how that information fits into the big picture. After all, cramming for a test rarely involves higher order thinking! On the other hand, alternative forms of assessment can challenge students to think critically about the material, making connections between concepts and understanding the "why," not just the "what."
Another reason instructors enjoy alternative assessments is simple: it's much harder for students to cheat. Now that many classes are offered online, academic integrity has become even more of a concern, but in alternative assessment, every student's work looks different, which means that cheating is much harder.


Assessment Ideas
We've talked about what alternative forms of assessment can do, so let's take a look at some examples! Coming up next is a roundup of assessment ideas from a variety of sources.
Baby Steps
Let's begin by exploring two ways to alter traditional assessment methods to make them more suitable for a diverse classroom.
One simple way to shake up "the big exam" is to provide more low stakes assessments like quizzes that take the pressure off of assessment while still making sure that students have a grasp on the material. Researchers have found that multiple low stakes assessments are correlated with both better retention and improved learning outcomes.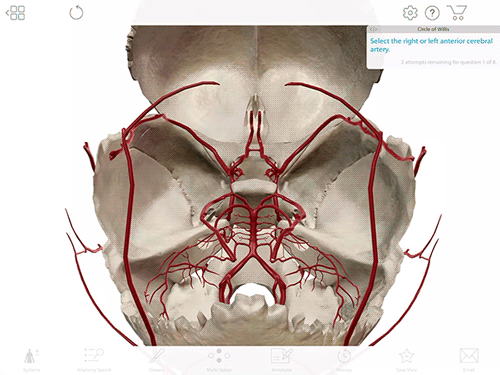 3D dissection quizzes are a quick, efficient way to assess students' knowledge of A&P and biology topics. Instructors can make their own quizzes or pull from a free bank of premade quizzes in Courseware.
Another way is to allow students to make revisions on tests. Through revisions, students can show you that they've learned from their mistakes, and this makes learning an ongoing process and not something that stops after test day.
If you're hesitant to overhaul your testing practice, these steps can make traditional testing more approachable to students.
Sketch Notes
This blog post is inspired by an excellent webinar delivered by Dr. Cindy Harley entitled "Smart Assessments: Moving Beyond Exams," where she talks about two methods of assessment she has adopted. I highly recommend watching the webinar or reading the recap on our blog for some fantastic insights into alternative forms of assessment in the A&P classroom!
One alternative to exams that Dr. Harley uses is sketch notes, where students use visual elements like drawings, images, and arrows to express concepts. In sketch notes, students use minimal text, relying on their creativity and their critical thinking skills to illustrate their knowledge.
The sketch notes then go through a peer review and revision process, where students give feedback on each other's work and make improvements before turning in the final assignment.
Walkthrough Videos
The other method Dr. Harley discusses in her webinar is walkthrough videos. In this online classroom-friendly assignment, students take on the role of teacher as they use screen capture apps to record videos of them walking the viewer through a system or body part.
Students use the Tours feature in Visible Body Suite to create their presentations, incorporating the dissection function and the draw tool to highlight different anatomy.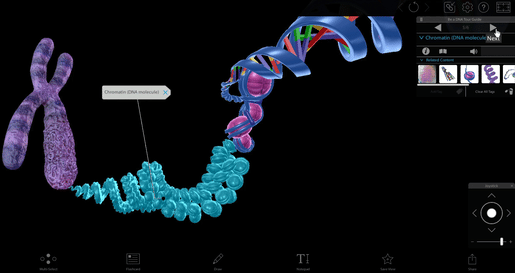 Tours make presentations and lectures interactive and dynamic. Tours are available in Visible Body Suite and Visible Biology (pictured).
As Dr. Harley points out, students will need to explain concepts to patients in their future careers, so this alternative form of assessment also requires students to develop their communication skills.
Get Practical
Traditional tests don't show students' abilities to apply concepts, but practical exams are a great way to test both knowledge and skill.
Instructors at Hope College came across a problem: students didn't have the skills to succeed in higher level biology courses. They started incorporating lab practicals as part of students' grades, asking students to display the desired skills. Students were observed by a teaching assistant who graded students based on a rubric. These skills served students well: it was found that the number of skills passed was correlated with higher grades in the course.
Another example comes from a panel on alternative assessments from The City University of New York. Linda Bradley, assistant professor at the New York City College of Technology's Department of Nursing assigns her students a midterm video practicum where students must show their skills in action. Students conduct themselves professionally as they perform a physical assessment, including a modified health history interview. Students turn in a video recording alongside a critique of the physical assessment.
Authentic Assessment
Authentic assessment also asks students to apply their knowledge. Authentic assessment refers to assessments that
are complex tasks
simulate "real life" problems and contexts
require many skills
ask students to "do" the subject
There are a wide range of authentic assessments out there. When it comes to the sciences, case studies are a popular option. When working with a case study, students can easily see how their classroom learning can apply to "the real world," strengthening connections between concepts and promoting retention. An instructor could ask students to analyze the facts, predict or extrapolate from existing case studies, or even create fictional case studies.


Looking for More?
For more information and inspiration, you should check out Dr. Eliana Elkhoury's excellent resource, A Guide to Alternative Assessments!
Read about other pedagogy topics on the Visible Body Blog:
---
Be sure to subscribe to the Visible Body Blog for more awesomeness!
Are you an instructor? We have award-winning 3D products and resources for your anatomy and physiology or biology course! Learn more here.