A Guide to Teaching with the Biology Learn Site and Courseware
Posted on 8/21/20 by Laura Snider
Biology instructors, we have new 3D models for you and your students! Teach about plant structure, cells, DNA, and blood in 3D and augmented reality. Students can use their laptops to interact with 3D models by zooming and rotating. With an iOS or Android mobile device, the models can be put into augmented reality!
All of these models are free to use and come with loads of learning and teaching content. If you need more, check out our Courseware platform that includes paced assignments and assessments. This means that as an instructor, you can opt to use Visible Body's free Learn Site to teach introductory biology in person or online. You can also combine it with a purchase if you want to track assignments and student learning with assessments.
The free content includes:
The additional paid content includes:
A complete premade Courseware course just for introductory biology. There are over 10 hours of assignments on prokaryotic and eukaryotic cells, monocot and dicot plant structure, DNA and chromosomes, and blood cells.
Assessments for each learning topic. We've written over 80 quiz questions! Each topic has quizzes that can be assigned to students and their grades report into a gradebook.
Today, we're going to walk you through how to use the Biology Learn Site content and Courseware to create engaging and interactive biology assignments for your students.
1. Choose an article on the Biology Learn Site.
The Biology Learn Site is Visible Body's free introduction to important biology topics, allowing anyone, anywhere to access our world-class visual content. Each article provides an overview of an introductory biology topic and contains one or more interactive 3D models that can also be viewed in AR on compatible mobile devices.
Want to assign Biology Learn Site articles as readings using Courseware? We've already set it up for you in the Introduction to Biology course. Each folder within the course is correlated with a specific Learn Site article and contains a link to that article in the first assignment.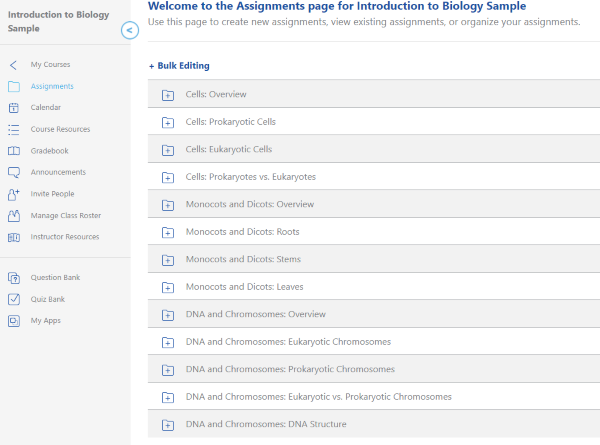 The assignment page for the Introduction to Biology course in Courseware.
2. Introduce topics using 3D models and Biology Learn Site articles.
Visible Body's 3D biology models, now available on the Biology Learn Site!
Using the 3D/AR models and reading the short articles on the Biology Learn Site is a great way for students to get an understanding of essential introductory biology concepts such as the differences between prokaryotic and eukaryotic cells; the structure of DNA and chromosomes; the different types of blood cells; and the structure of monocot and dicot roots, stems, and leaves.
While reading each Learn Site article, students can manipulate the labeled models in 3D or AR, rotating and zooming in and out to get a solid understanding of the appearance and location of different structures.
The articles themselves are brief and written in an accessible style, great for introducing topics for the first time or for reviewing the basics before a test or quiz.
One of the coolest things about using the AR models is that instructors and students can create videos using the screen recording functionality on their mobile device and share them with colleagues and classmates. Recording a video presentation of one of the VB models could be a great assignment for students who are creatively inclined!
Each folder in the Introduction to Biology Courseware course contains a Lesson assignment that links to one of the Biology Learn Site articles. Learning goals are included in the descriptions of these assignments, but instructors are free to customize the description text to best suit their course.
3. Have students look up definitions and manipulate models in the Glossary.
Want students to get a more in-depth look at the structures that are labeled on the 3D models? You can have them check out the Glossary pages on the Biology Learn Site to view each 3D model alongside the definitions for their labeled structures. The Glossary pages also make great reference and study tools: with all the models from each unit on a single page, students can quickly compare different cells, chromosomes, plant structures, and types of blood cells.
In the Introduction to Biology course in Courseware, the Anatomy ID assignments make use of the Glossary pages to encourage students to take a closer look at specific models and structures.
4. Assign lab activities.
Whether assigned by an instructor or completed by students independently, Visible Body's biology lab activities allow students to check their understanding of the topics on the Biology Learn Site. A collection of lab activities for each biology topic can be downloaded from the Visible Body's Resources page or right from the Biology Learn Site.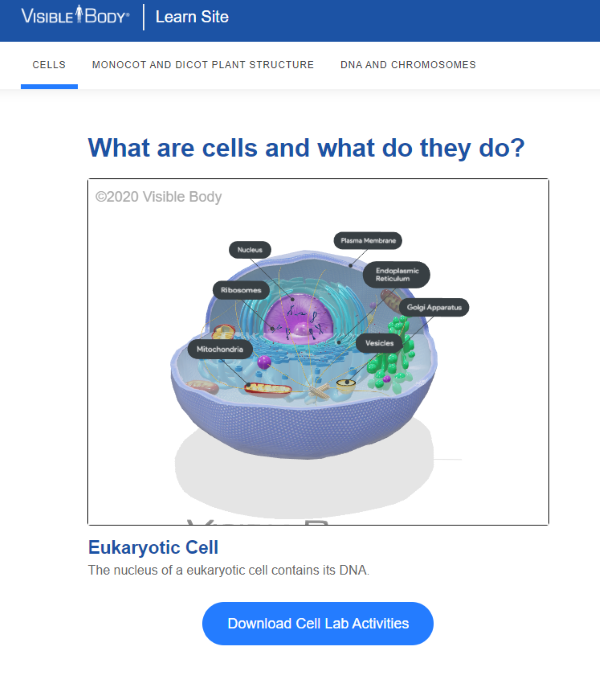 Click the blue buttons below the 3D models on the Biology Learn Site to download free lab activities!
The Courseware course pairs each Learn Site article with specific corresponding lab activities from each unit, making for a more streamlined experience. Answer keys are also provided right in Courseware, so instructors already using Courseware don't have to request them individually from the Education Team.
5. Assess students' knowledge with quizzes.
The Introduction to Biology course includes short quizzes corresponding to each lesson. These quizzes are available for you to use right off the shelf, but you can also create your own custom quizzes using the Courseware Quiz Bank.
Any quiz you create in Courseware will report its results to the Courseware Gradebook, where grades can be exported to LMSs such as Canvas, Blackboard, Moodle, and D2L. Multiple-choice and dissection quizzes are automatically graded, too, which is a great time-saver for instructors. To learn more about quizzing in Courseware, check out Visible Body's webinars and the Courseware section of the Support Site.
We hope you enjoy using our new content to teach interactive online biology courses, and we're excited to continue to bring you more awesome biology content in the future! Learn more about our Courseware Biology activities, labs, and quizzes on the Courseware for Biology page. You can also request an instructor trial!
---
Be sure to subscribe to the Visible Body Blog for more anatomy awesomeness!
Are you an instructor? We have award-winning 3D products and resources for your anatomy and physiology course! Learn more here.