Why Do Librarians Love Visible Body Suite?
Posted on 11/2/23 by Sarah Boudreau
Libraries connect students to the resources and tools they need to succeed in the classroom and beyond—resources like Visible Body Suite. VB Suite offers flexible learning options that let students study where, when, and how they want, making a VB Suite site license a perfect fit for university libraries.
In this blog post, we'll look at five reasons why librarians love Visible Body Suite!


VB Suite has something for everyone
VB Suite comes packed full of content that connects with a wide variety of courses.
Its most obvious use is for the anatomy and physiology courses that are a prerequisite for many health sciences programs. A&P can be a tough, "weed-out" course, but VB Suite contains thousands of individual structures and their descriptions to help students master course content.
Once students move beyond A&P and into other courses, VB Suite is still there to support them! Through pathology models, histology slides, interactive muscle action simulations, and more, students can use VB Suite as a resource throughout their education in the health sciences.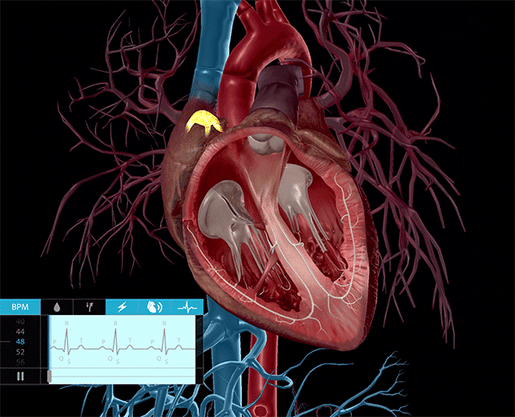 GIF from Visible Body Suite
Here are just a few examples of courses and programs that have used Visible Body products to boost student learning:
Kinesiology
Personal training
Nursing
Mortuary sciences
Physical therapy
Dental and dental hygienist programs
Sports medicine
VB Suite contains more than just A&P-related content—you can also find a wealth of general biology content, including dissectible animal models and cell models. Students can visualize the structure of DNA with interactive 3D simulations, explore prokaryotic and eukaryotic cells, examine the components of blood cells, and more!
VB Suite can even be used beyond the sciences—for example, the library at Laguna College of Art and Design has included Visible Body in its collection since 2012 so that students can better represent human anatomy and musculature in their artwork.


VB Suite helps many different learners
When it comes to learning, a "one-size-fits-all" approach doesn't always fit. VB Suite appeals to many different learners, offering flexibility and self-guided learning opportunities that many other resources do not.
Interactivity is at the core of VB Suite, and through interacting with 3D models designed by visualization experts, students can get "hands-on" learning outside of the lab. Interactive elements combined with animations and 2D illustrations offer many opportunities for multimodal learning.
Students—particularly English language learners—appreciate the pronunciation option. Just click on the megaphone icon in the info box and the structure name is read aloud, giving students the confidence to use these terms in class.
Did you know that VB Suite is available in seven languages? Students can access VB Suite in English, Simplified Chinese, French, German, Italian, Japanese, and Spanish!


Study tools make studying—and collaborating—easier
Let's talk about Tours, Flashcards, and dissection quizzes!
Tours are collections of saved, customized views—basically, an interactive 3D presentation. Many instructors use Tours as lecture aids, but students can create and view Tours as a method of reviewing information.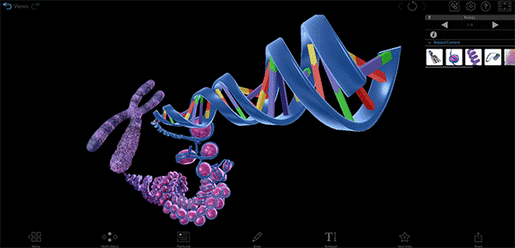 GIF from VB Suite.
Here at Visible Body, we believe in giving students the tools they need to succeed, so our team has created a library of free, premade Tours that users can add to their account. Students will also love our library of premade Flashcard Decks!
Speaking of Flashcard Decks, Flashcards are a great way to study. Students can create their own Flashcards using VB Suite's drawing and tagging features, or they can use premade Decks.
Tours and Flashcard Decks are easily shareable, which makes it easy for students to study and collaborate!
Under the Study tab, students can also find human anatomy and biology quizzes called dissection quizzes. These dissection quizzes go beyond the rote memorization of multiple choice, asking students to find and select structures using 3D models. These quizzes are a built-in study tool for students to review information.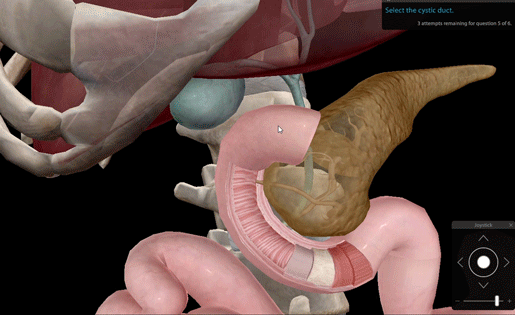 GIF from VB Suite.
Students can study anywhere
Students can learn on the go with the VB Suite mobile app! All VB Suite users can download and use the app for free; they just log in with their VB Suite credentials. On the mobile app, students can access their custom library of Tours, views, and Flashcards, test their knowledge with quizzes, and visualize anatomy and biology even without Wi-Fi or cell reception.
Augmented reality (AR) is an exciting feature unique to the mobile app! Using a mobile device's camera, students can explore models in a new way. Research even indicates that using AR can improve student learning in the health sciences!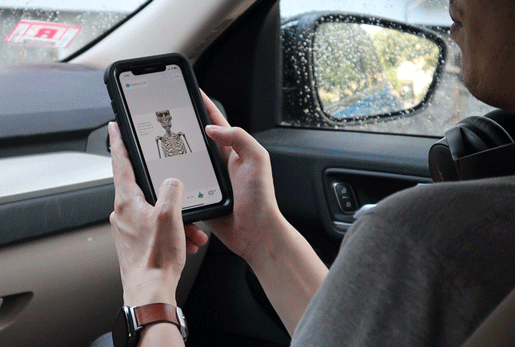 Students can study on the go with Visible Body Suite's mobile app, included for free with a VB Suite account!
VB Suite's QR code feature makes it easy to use the mobile app in conjunction with the desktop app. Through clicking the Share button on the desktop app's toolbar, students can instantly generate a QR code that they can then save. Scanning that QR code with their mobile device's camera will launch Visible Body Suite and bring them to that exact view, making QR codes a dynamic way to spice up note-taking and other study practices.


VB Suite can save students money
When libraries purchase Visible Body Suite, they provide students with interactive tools they need to excel… and they can even end up saving students money.
Let's use University of Massachusetts Amherst's Science & Engineering Library as an example.
Ellen Lutz, Health Science Librarian and Liaison to the School of Nursing and the School of Public Health and Health Sciences, first became aware of Visible Body when a sales rep gave a brief demo on campus. A kinesiology faculty member had used Visible Body in an A&P lab at his previous institution, and he advocated for Visible Body's use at UMass Amherst.
Ellen worked with Visible Body to set up a semester-long trial of the site license. After a semester of teaching with Visible Body, the faculty decided that Visible Body could—and would—replace their traditional lab manual.
Because the library purchased the site license, students no longer need to pay for a lab manual.
"The lab manual that the students usually purchased is $80, and they have around 600 students that come through the A&P class each year, so the math means [students were paying] $48,000—and I can tell you that we do not pay anywhere near $48,000 a year for our site license. As a librarian, that was really what attracted me to it. Our libraries, and our campus in general, are really aware of the rising costs of textbooks and materials that students have to buy. Finding ways that libraries can help support and reduce that burden on students is an important piece of our mission," Ellen said.


Get a trial for your library
You can get a free trial for your library and see for yourself why VB Suite is used in over a thousand institutions around the world!
Fill out a trial request form and a member of our team will get in contact with you.
Our Customer Support and Engagement Teams offer one-on-one and group training as well as quick problem solving. We're here to support you and your institution and make sure you get the most out of your VB Suite site license!


---
Be sure to subscribe to the Visible Body Blog for more anatomy awesomeness!
Are you an instructor? We have award-winning 3D products and resources for your anatomy and physiology course! Learn more here.
Topics