What's New at Visible Body for Fall 2021?
Posted on 10/1/21 by Laura Snider
The Visible Body team has been working hard all summer to bring you some wonderful new features and improvements in Web Suite and Courseware. We're also excited to announce that Visible Biology is now ready for demos leading up to its official January 2022 launch!
Read on to find out more about all the awesome things we have in store for you this fall!
1. Flashcards for Web Suite and Courseware
At the end of August, we announced the release of Flashcards for Human Anatomy Atlas in Web Suite and Courseware. We'll give a brief overview here, but check out this in-depth blog post for a more detailed tutorial.
With Flashcards, you can use the awesome 3D models in Human Anatomy Atlas to create and share your own Flashcards and Flashcard Decks for a studying experience like no other. Customization is a snap: it's easy to add annotations such as drawings (lines, shapes, and arrows) or a text box to your card. The auto-labeling feature also makes it easy to find and label the structures you want to study.

You can also use Explore Mode to review surrounding structures and quickly return to your Flashcard Deck.

If you want to send the Flashcard Deck you've made to your classmates, colleagues, or students, you can easily generate a Share Link that they can copy and paste into Atlas. This will give them the option of saving the Deck to their own library. For those looking to get started studying right away, our content team has also created study decks for each body system that you can download and use (or save) immediately.
And for the instructors among you, we've got even more great news: Flashcard Decks are now assignable in Courseware! Here's the basic process for how to do so. If you've assigned custom content, like Tours, in Courseware before, these instructions will sound familiar.
Create or download a Flashcard Deck and save it to your Visible Body User Account.
Go to your course and click the Create New Assignment button.
Select Human Anatomy Atlas under Visible Body Content, then click the Continue button.
On the next screen, select Flashcard Decks, then select the names of the Decks you want to assign from the drop down menu. Click Continue.
Finish setting up your assignment with a title, release date, due date, and description.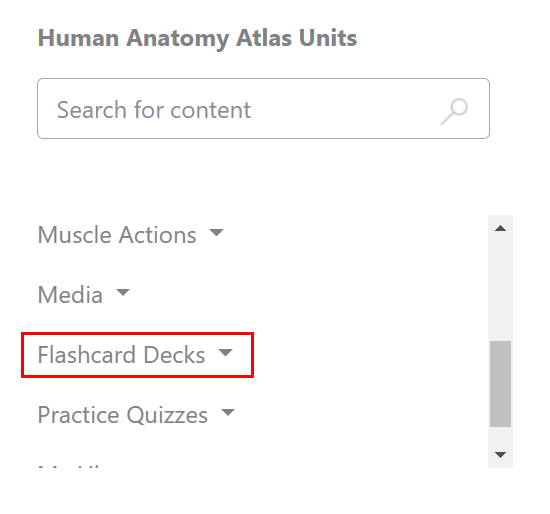 2. Fascia in Atlas for Web Suite and Courseware
Fascia and muscle compartments have been among our most requested anatomy additions, so we're pleased to announce that they are now included in Atlas for Web Suite and Courseware (and they'll be coming soon for mobile versions of Atlas).
What is fascia? Fascia is a type of connective tissue that wraps around muscles and internal organs. Fascia is perhaps most notable for separating groups of muscles in the upper and lower limbs into particular compartments. Learning about these groupings is useful for remembering how the muscles are organized and also for understanding pathologies such as compartment syndrome, which occurs when too much pressure builds up inside a muscle compartment.
In Human Anatomy Atlas (for Web Suite and Courseware), a fascia layer will now appear on models of the muscular system. You can highlight, fade, or hide fascia just like any other structure.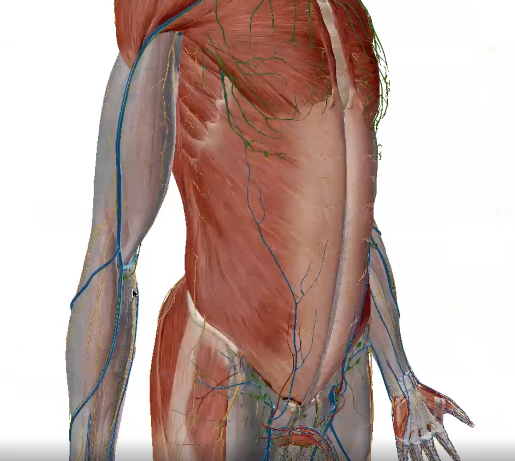 Fascia of the right arm. Image from Human Anatomy Atlas.

You can also see the intermuscular septa that separate muscle compartments from one another in the upper and lower limbs.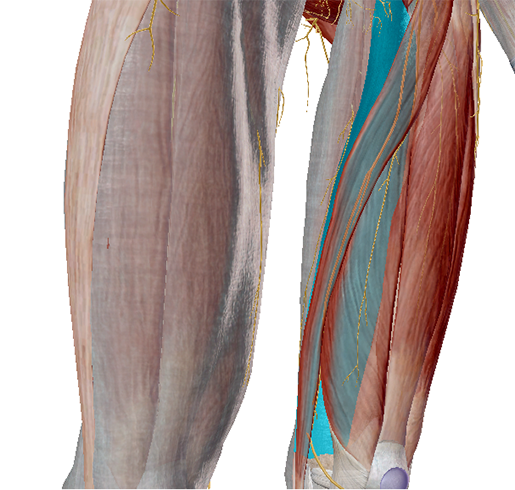 Fascia of the thighs with nerves and blood vessels. Image from Human Anatomy Atlas.

Check out this blog post to read more about fascia, compartments, and compartment syndrome.
3. Visible Biology (including Flashcards!)
And now, here's a particularly exciting addition to VB's content offerings: the beta build of Visible Biology is here! It'll be available for instructors to use in courses starting January 2022, but we'll be offering demos this fall.
Visible Biology contains engaging 3D models of plant, animal, and bacterial cells; the roots, stems, and leaves of monocot and dicot plants; the molecular structure of DNA; and prokaryotic and eukaryotic chromosomes. It also contains interactive simulations of important processes such as photosynthesis and DNA coiling and supercoiling.
Integrating Visible Biology into your biology curriculum is easy with lesson plans (correlated with NGSS, Florida, California, and Texas standards) and lab activities for each unit.

Within Visible Biology, students can test their knowledge with dissection quizzes and Flashcards, all conveniently accessible from the Study section.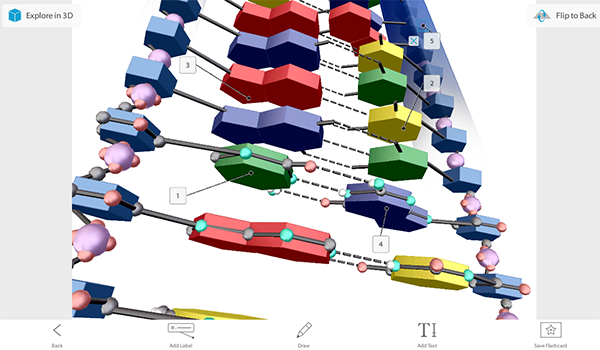 A Flashcard on the molecular structure of DNA in the making in Visible Biology.

Visible Biology will be available as an individual web product site license. It will also be available with the full version of Courseware or with just the Anatomy & Physiology app in Courseware.
4. Gradebook improvements in Courseware
In addition to new features and a brand new product, we've also made some improvements to the Courseware gradebook to make it easier for instructors to find the information they need. You can check out this webinar for a more detailed look, but we'll highlight some of the most helpful gradebook changes below.
First, you might notice a few changes to the gradebook's display. The columns for each assignment are now narrower, allowing you to view more of them at a glance. You can still see all of a student's assignment attempts easily by using the dropdown, shown in the image below.

The gradebook is also easier to navigate—you can scroll through it both horizontally and vertically with arrow keys, and a horizontal scroll bar appears at the bottom of the view regardless of whether you are at the bottom of the list of students. In addition, the top two rows of information, which contain assignment titles and quiz names, are now sticky, so you can see them no matter where you scroll.
Lastly, if you make changes to grades or quiz attempts in the individual student view or on a second page of the gradebook, you will no longer be returned to the main gradebook page immediately after making your changes.
And there you have it—the latest in what's new at Visible Body. We hope you're as excited about these updates as we are! Want to try Visible Body Courseware or Visible Biology for yourself with a free instructor trial? Get in contact with our Education Team.
---
Be sure to subscribe to the Visible Body Blog for more anatomy awesomeness!
Are you an instructor? We have award-winning 3D products and resources for your anatomy and physiology course! Learn more here.