Making the Most of Custom Content in Human Anatomy Atlas 2023+
Posted on 3/18/21 by Laura Snider
Human Anatomy Atlas 2023+ is now available in Courseware, Web Suite, and for Site Licenses/Group Subscriptions! This means that our customers using these products have access to all the cool features we talked about a while back in our blog post on user accounts and sharing content.
These features include:
Saving editable 3D Views with 3D Drawings, Notepad entries, and Structure Tags
Sharing your enhanced Views and Tours
Accessing your saved Views and Tours across multiple devices
In this blog post, we're going to focus on how instructors with a Site License or Courseware subscription can use this custom Atlas 2021 content in their courses.
Logging into your user account
In order to make use of the new custom content in Atlas 2023+, you'll need to log in to your user account or create a user account.
Please note—if you currently have a Courseware account (or a Web Suite account) you already have a user account! If you're accessing Atlas 2023+ through Courseware, you'll be logged in automatically, so you don't need to worry! On the mobile versions of the app (including the download available through Courseware), all you need to do is use your existing email address and password to log in when prompted in Atlas.
Here are the instructions for creating a new user account:
If you previously had a user account for our Human Anatomy Atlas 2020 Site License (Atlas Web) product, follow these instructions for migrating your old custom content data to your new account using Atlas Web.
What types of custom content can you create and share?
3D Views with Tags, Drawings, and Notes
The options for making custom content in Atlas are pretty much endless. Select a preset view from the main menu and add or remove whatever structures you'd like. Then, you can use the Tags, 3D Drawing, and Notepad features to highlight particular structures, illustrate physiological processes, or add text notes to remind your students of important concepts.
Here's a video with some great tips for creating and saving a 3D View in Atlas:
Want to tag some different structures or fix one of your 3D Drawings or Notes? You can go back and edit any of the saved custom views in your Favorites. (No more remaking an entire View because of a typo in the Notes or an errant squiggle in a 3D Drawing!)

Interactive 3D Tours
Walk your students through a group of structures, or even a whole body system, by combining multiple Views into a Tour. Tours have always been great tools for lecture presentations, but now you can share entire Tours (instead of just individual views) with your students so they can use them to review material or work through particular structures or topics outside of class. Feel free to spice up your Views with Tags, 3D Drawings, and text notes—in Atlas 2021, these can all be part of your Tour, for maximum customization and interactivity! (Hooray!)
Here's a quick tutorial on how to create an interactive presentation as a Tour in Atlas 2021:
You can also use tours to create interactive assignments for students. Check out the tutorial below:
How to generate and share a share link in web versions of Atlas 2021
You've made your fabulous custom content. Now how do you share it with your students (and co-instructors, TAs, etc.)? If you're using Courseware, you can make an assignment with your custom content! See the final section in this post for instructions on how to do this.

If you want to share custom content with an Atlas Site License or Web Suite, you will need to generate a share link and distribute that link to your students. Here's how!
Once you've finished crafting your view, click the "Share" button in the bottom right corner of the screen.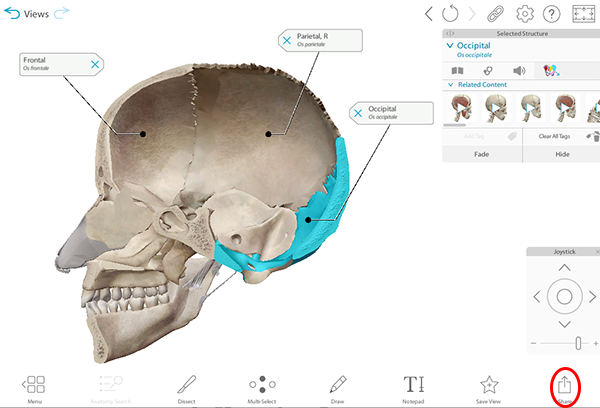 The Share button in Human Anatomy Atlas for Courseware, Web Suite, and Site Licenses.
You will then see a popup that will prompt you to download the image or generate a share link. Click the Share Link option, and the app will generate a link for you to copy.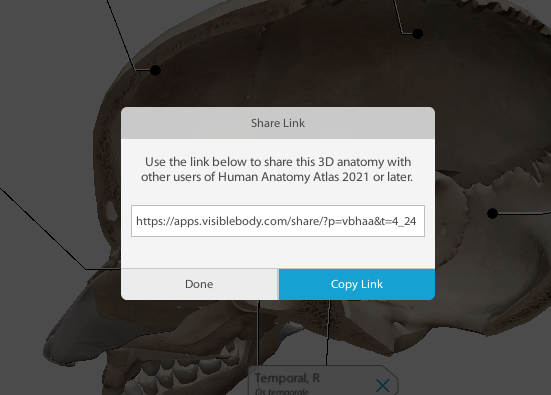 Example of a share link in Human Anatomy Atlas for Courseware, Web Suite, and Site Licenses.
To share the link, simply paste it into any email or document.
How to view a share link
On mobile devices
If the recipient of your share link is on a mobile device with Atlas installed, tapping the share link will automatically open Atlas and the View or Tour you've shared.
In Atlas Web (Courseware, Web Suite, or Site License versions of Atlas)
If the recipient is using a web version of Atlas (Courseware, Web Suite, or a Site License), they will need to open the app and select the link icon on the main menu. This will prompt them to paste the share link into a text box, and then the View or Tour will load in the app.
Important note—pasting the share link into your internet browser won't open the app. Please share this information with your students!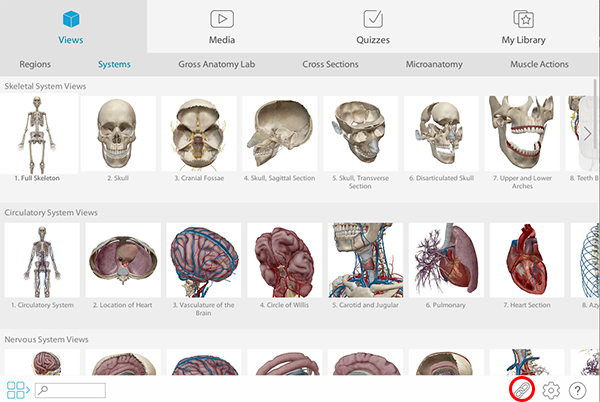 Links button in the main menu of Human Anatomy Atlas for Courseware, Web Suite, and Site Licenses.
This same link icon can be found in the top right corner of all Views, as well.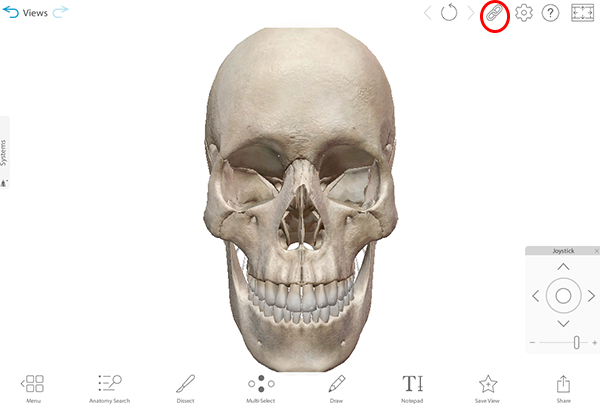 Links button in an anatomy View in Human Anatomy Atlas for Courseware, Web Suite, and Site Licenses.
If you're a Courseware user, keep reading for an awesome (and easy!) way to share your custom content—making it into assignments in Courseware!
How to incorporate custom content into a Courseware course
Courseware instructors, we've got some awesome news for you—you can assign Views and Tours from your own custom content in Courseware! Here's how.
First, click the Create New Assignment button at the top right of the assignments page in your course. Then, select Human Anatomy Atlas under Visible Body Content and press Continue. You'll then be prompted to select which assets from Atlas you'd like to use. You'll find your custom Tours and Views by clicking My Library.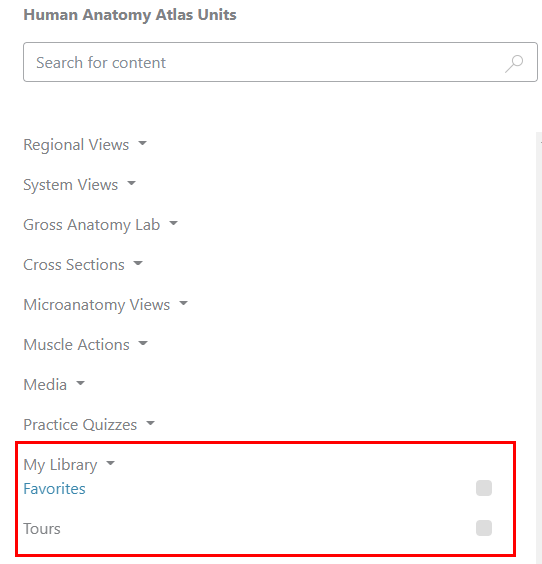 Adding custom content to a Courseware assignment with My Library.
Select whichever Views and/or Tours you'd like to include in your assignment and then hit continue to proceed as normal with assignment creation. Note: if you edit these Views or Tours later, those changes will be reflected in the assignment as well.
The fact that you can create your own Views and Tours for your students to work through in Courseware is cool, but you know what's even cooler? Students can save these Views and Tours (and even individual Views from within a Tour) to their own account for later reference. That means if they want to save a copy of your presentation with their own notes to study from, they can do so right in Courseware.
We hope you enjoy using custom content in your courses! For more Atlas 2021 tips and tricks, check out our blog post on becoming an Atlas super user! If you're looking for advice on how to use Tours, we'd recommend having a look at this post on lecturing in 3D with Visible Body. We also recently made some updates to the quizzing engine in Courseware—you can learn more about them here.
As always, if you have any questions, our support team is here to help! If you want to try Courseware for yourself, get in touch with us using this form. Interested in an Atlas Site License instead? You can find out more about group subscriptions for institutions here.
---
Be sure to subscribe to the Visible Body Blog for more anatomy awesomeness!
Are you an instructor? We have award-winning 3D products and resources for your anatomy and physiology course! Learn more here.