How to Design Lessons Using 3D Anatomy Apps: A Step-by-Step Guide
Posted on 11/8/19 by Laura Snider
3D anatomy apps like Human Anatomy Atlas are great for reference, and they make excellent teaching tools as well, especially with the help of a platform like Visible Body Courseware.
Today, we're going to use one of our pre-made Courseware courses, a textbook correlation with Marieb & Hoehn's Human Anatomy & Physiology, to demonstrate how you can use Courseware to help students master an A&P topic. So if you're interested in using 3D anatomy apps or wondering if Courseware is the right choice for your classroom or institution, keep reading! If you'd like to make your own Courseware courses instead of using the ones we've made, you can think of this tutorial as a template for an effective way to organize a course.
The Education Team member who designed most of the textbook correlation courses did so with a particular "learning path" in mind. For the rest of this post, we're going to follow that learning path through one unit in the Marieb correlation course. Along the way, we'll discuss some ways instructors can make assignments even more engaging for students.
1. Knowledge Acquisition
The first step in each unit of our textbook-correlated A&P courses is to provide students with information—think of this as the reading students would do in a textbook before completing homework assignments.
The knowledge acquisition assignment contains a selection of modules from Visible Body's A&P app, a digital multimedia textbook that includes animations, illustrations, and fully manipulable 3D models.
In the Muscular System unit of the Marieb/Hoehn course, the knowledge acquisition assignment is the one circled in the image below: "Modules - Muscular System."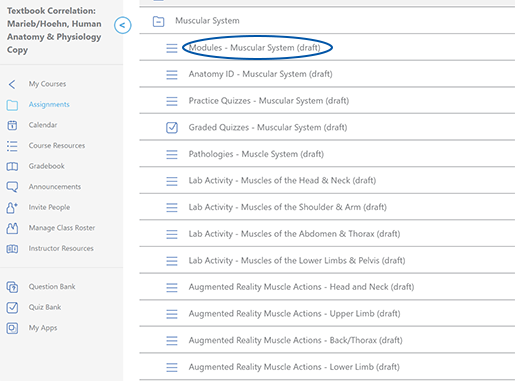 If you're using A&P as a supplement to a traditional textbook, students can move quickly through the modules, using them to review key topics and brush up on the basic location(s) and functions of particular structures.
If you're using A&P as your textbook, you can have students use the book icon to access in-depth definitions of the highlighted structures in 3D models.
They can also use the "breadcrumb trail" feature to zoom out and gain more general information about the system a structure belongs to.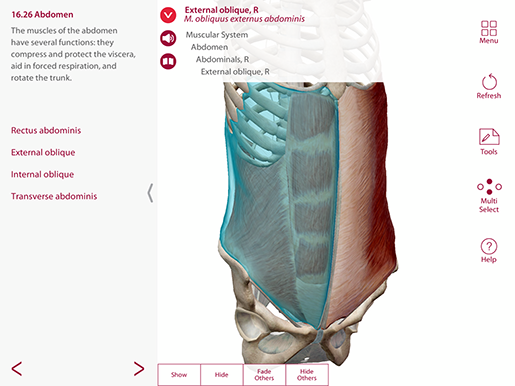 Image from A&P.

Additional Content: Pathologies
If you'd like your students to learn about pathologies alongside the anatomy and physiology content, you can include views and animations from Muscle Premium (for musculoskeletal pathologies) and/or the Pathology Animations app (for pathologies affecting other body systems).
For example, the "Pathologies - Muscle System" assignment in the Marieb/Hoehn course contains the pathology tours from Muscle Premium. Within each tour, students can compare the pathology to normal anatomy by using the arrows in the content box to scroll through the different views. They can also use the content box to access videos in which sports medicine professionals discuss normal anatomy and function, biomechanics, and pathology causes, complications, and treatments.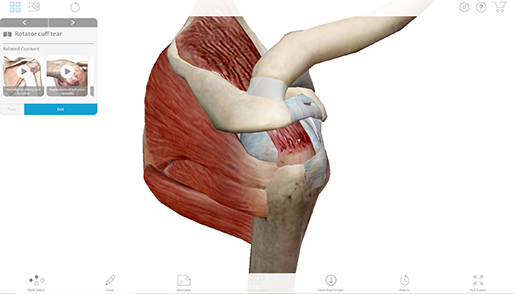 Image from Muscle Premium.
2. Applying Knowledge (Anatomy ID)
The Anatomy ID assignment lets students explore a 3D view from Human Anatomy Atlas and manipulate the model on their own.
In the Muscular System unit, the "applying knowledge" assignment is "Anatomy ID - Muscular System."
Our Education Team suggests that if you have a list of must-know structures for a particular system, you can have students work through it as part of the Anatomy ID assignment.
You could even do a scavenger-hunt type activity where you provide a clue for each structure and the student must find and fill in the correct structure.
Students can explore by clicking on structures in the view or use the Anatomy Search tool to find the ones they need.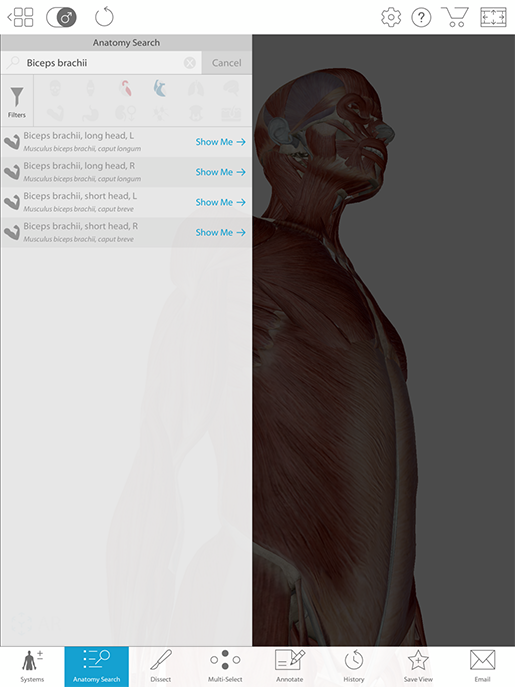 The Anatomy Search tool in Human Anatomy Atlas.
They can also use the content box to view a more in-depth definition and explore features such as bony landmarks, muscle attachments, innervation, blood supply, and muscle actions.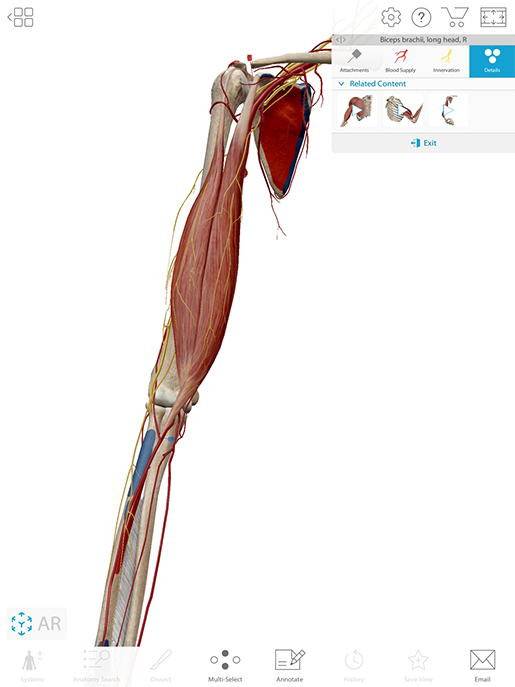 Attachments, blood supply, and innervation of the biceps brachii. Image from Human Anatomy Atlas.
3. Practice
After learning about a given topic and applying their knowledge within an interactive 3D view, it's time for students to check their understanding.
The "Practice Quizzes - Muscular System" assignment, as well as its equivalents in the other units, uses the practice quizzes from the A&P app to help students see what they've already mastered and what they still need to work on.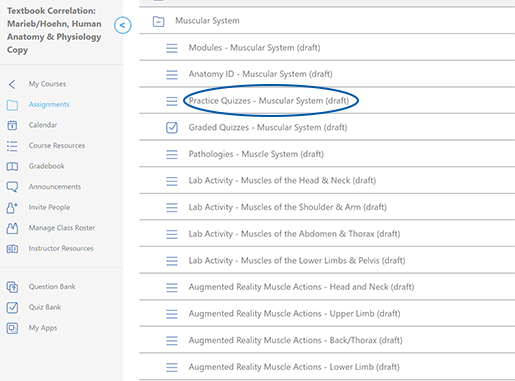 The A&P practice quizzes include both multiple-choice and dissection quizzes. In each type of quiz, the student will receive feedback after every completed question, letting them know whether or not they answered correctly. If they did not answer correctly, they can click the "show answer" button to highlight the right answer.
Personally, I love the practice quizzes because they allow students to identify gaps in their knowledge and guide their studying towards filling those gaps without the pressure of taking a quiz for a grade (or being timed, having a limited number of quiz attempts, and so on). These quizzes are just exercises for the students, so their results won't be reported in the grade book.
4. Assessment
Once students have had time to acquire knowledge, apply it, and do some practice quizzes, you can assess their progress in a more official way. The Graded Quizzes assignment (in this case, "Graded Quizzes - Muscular System") in the unit provide multiple-choice and dissection quizzes that will receive a grade. Short answer quizzes are also an option to include in a graded quizzes assignment, but those are not graded automatically.
While the practice quizzes come from the A&P app, the graded quizzes are from the instructor-only quiz bank. Quiz bank quizzes are highly customizable. In addition to being able to change the number of attempts, you can also choose whether or not the quiz is timed and how many points the quiz is worth. You can even make your own quizzes by creating or selecting multiple-choice, dissection, or short answer questions from the question bank.
At the end of each quiz attempt, students can see which questions they answered correctly/incorrectly. They will be able to view the correct answers on a multiple-choice quiz, but not a dissection quiz—instead, the dissection quizzes will tell them the name of the structure they selected and whether it was the correct or incorrect structure.
Once a student has taken a graded quiz-bank quiz, the results will automatically appear in the gradebook.

5. Lab and AR Exercises
Depending on the type of course you're teaching, there is a wide range of other content you can include using Courseware.

Lab Activities
Does your course have a lab section? Visible Body's got you covered with lab exercises for every major body system. These pdfs are included with many of our textbook correlation courses, but they're also available here if you'd like to make your own course.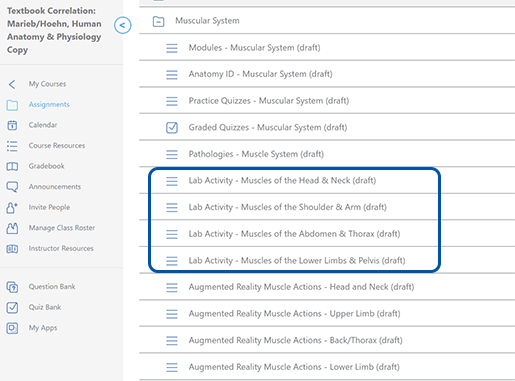 Because they don't require lab space to complete, Visible Body lab activities make great pre-lab study guides. They can help students cement their understanding of topics and major structures before coming to a dissection lab session, for instance.
Each lab activity is written by a university professor and is paired with one of Visible Body's apps (either A&P or Human Anatomy Atlas). One of the great things about the lab activities is that students can do them anywhere, since they're meant to be used with our mobile apps. Students can either read the pdfs on their computer or print them out. The activities are designed so that students can follow along in the app to answer questions and fill in outlines and diagrams.

AR Activities
If your students have devices with augmented reality capabilities, you can also add AR activities to your palette of assignments.
Our selection of AR lab activities and accompanying lesson plans can turn any room into a virtual lab space. (Pro tip—these worksheets are fun interactive mini lab exercises even if you don't do them in AR!) AR lab activities are currently available for the following topics: pulmonary circulation, eye & ear, respiratory system, digestion, skull bones, and brain.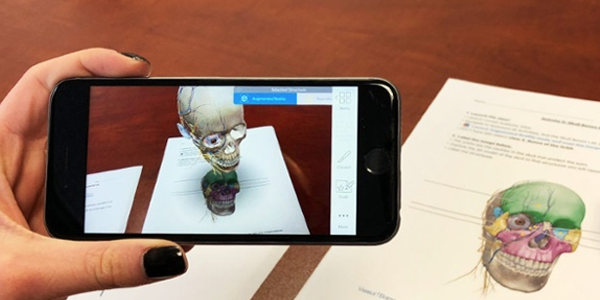 You can also use the AR features of our apps to design your own interactive classroom, lab, or homework activities. The Marieb/Hoehn course contains several Augmented Reality Muscle Actions activities based on this lesson plan from our blog.

And those are the basics of what a unit looks like in one of our textbook correlation courses!
We hope you've enjoyed this overview of how to use 3D anatomy apps and the Courseware platform as teaching tools. If you've got any questions about Courseware, or if you haven't yet tried it out and would like a demo or free trial, contact our Education Team!
---
Be sure to subscribe to the Visible Body Blog for more anatomy awesomeness!
Are you an instructor? We have award-winning 3D products and resources for your anatomy and physiology course! Learn more here.