How Does Visible Body Courseware Compare to 3D4Medical's Complete Anatomy?
Posted on 4/4/22 by Laura Snider
It's great to have lots of choices when you're shopping for a 3D anatomy education tool, but a large selection also means there is a lot of information to sort through.
Never fear—we've got your back! Today, we'll be talking about five aspects of 3D anatomy education technology to keep in mind when selecting a product to fit your classroom and teaching style.
Instructors frequently ask us how much our products cost students, what sorts of devices our products work on, what kind of content is included, and how they can create their own content. They're also interested in how interactive the learning experience is for their students.

To illustrate these points, we'll be discussing the features of Visible Body Courseware and a similar product, 3D4Medical's Complete Anatomy (Student Plus Version). Both Courseware and Complete Anatomy have 3D models, animations, courses, and quizzing features, so we'll take a look at how these two products compare along the dimensions of price, portability, content, customization, and user experience.


Pricing
Cost is an important factor for institutions, instructors, and students alike, especially in a field like A&P. Why?
Subscriptions that include traditional textbooks with media bundles cost over $150 from the big publishers (you can knock that cost down if students rent the textbook or buy it used and purchase just the publisher's media access). But when the subscription ends, students lose all access. Often, the student retakes A&P and has to buy the subscription again.
It's not just the lecture materials; there are often lab fees to cover the expensive price of cadavers or specimens, and the cost of a lab manual.
Instructors talk to us a lot about getting the best value for the school and the students' budgets and we crafted Courseware with all their feedback in mind!
Courseware offers a low cost to students and expanded access—a one-year subscription is $49.99 and a two-year subscription is $64.99. Bulk pricing is also available for institutions.
Instructors have the option to reduce or remove additional lab costs to students by using the features in Courseware to host online anatomy labs and dissection quizzes. They can also incorporate Visible Body's totally free lab manual content.
The price for the Student Plus version of Complete Anatomy is currently half off for the first year at $39.99 and then $74.99 for the next year or any after. If a student wants to access Complete Anatomy after the subscription lapses, they have the option to buy a mobile download for an additional fee.


Portability and LMS Integration
Unless you have a classroom or lab set of devices, the types of devices used by students are diverse when it comes to both hardware and OS. Some have the latest phones, tablets, or laptops with the most recent OS update, and others have slightly older models.
When we created Courseware, we took a wide range of devices into account. (The system requirements for Courseware and the VB mobile apps can be found here.) The way our product is set up allows students and instructors to access Courseware without having to go out and buy a new device:
The Courseware platform is web-based, which means that students can use an in-browser version of the apps to complete assignments on any computer. Students and instructors can use the web apps on any computer for presentations, too!
Instructors don't have to install anything on their computers in order to access the assignment and quiz creation tools.
The mobile versions of the apps are intended for reference and studying. Students can access all the features of the apps on their mobile devices, but they will need to use the browser versions to complete assignments.
While students using Complete Anatomy have access to the Courses and quizzes features on their phones, they can't use the note-taking, drawing, and dissection tools unless they're on a tablet or computer.
Another important factor in choosing a new education tool is LMS integration and compatibility.
As of spring 2024, Courseware can be integrated with:
Canvas
Blackboard
Google Classroom
Schoology
Moodle
D2L
Clever
ClassLink
Complete Anatomy only integrates with Canvas and Moodle, and it does not feature gradebook sync.


Content
Instructors want to make sure that the content in whatever 3D anatomy app they choose is detailed and accurate. Visible Body Courseware provides:
Full 3D models of both male and female bodies.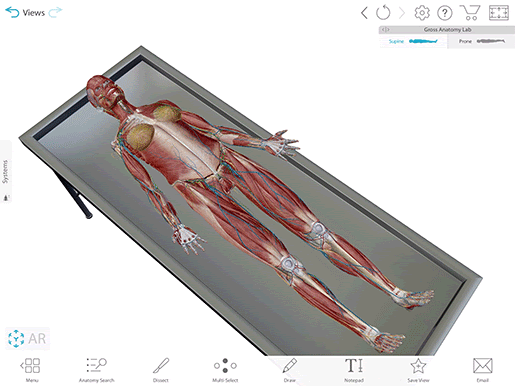 It's easy to switch between the full male and female models in VB Suite.
25 cross-sections of the head, torso, and abdomen, accompanied by real cadaver images and CT/MRI scans
70+ muscle animations, accessible from their own menu as well as via the info box when a muscle is selected
Diagnostic imaging
Histology slides
Illustrations
Models, simulations, and animations of basic biological processes and structures
Muscle actions in VB Suite, formerly known as Human Anatomy Atlas.
Here's how Complete Anatomy's content compares:
Full 3D models of male and female bodies
Limited microanatomy
Diagnostic imaging
100+ cross-sections
52 muscle actions, accessible by selecting individual muscles
Visible Body's editorial team designed the preset views in VB Suite to fit a variety of degree pursuits, but Complete Anatomy's preset views only focus on common medical school regional anatomy.


Create and Share Content
Courseware and Visible Body Suite offer many ways to create and share content.
Flashcards are one of the most popular features in Courseware and VB Suite—instructors and students can choose from a library of premade Decks or can build their own.
Tours are another popular instructional tool. Tours are made by linking saved custom Views, creating an interactive 3D presentation.
Both Flashcards and Tours can be shared easily through a link or QR code. Any user can make, save, and share Flashcards and Tours, regardless of plan type!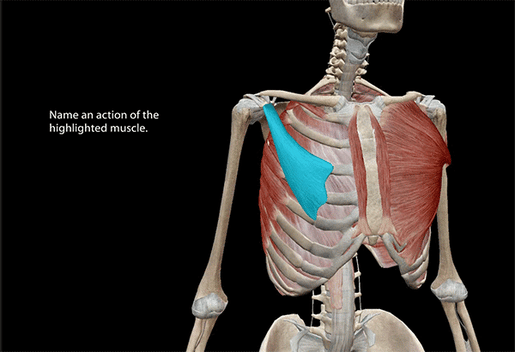 VB Suite's Flashcards are assignable in Courseware!
In comparison, Complete Anatomy has limited custom content options.
No flashcard feature
Instructors and students can save 3D models to their content libraries.
Only instructors can share and create presentations.
Only instructors and faculty members with an Institutional plan can share screens or lectures with students that have Student Plus plans.


Instructor User Experience: Customization Options
One of the features instructors like best about Visible Body Courseware is that it gives them easy-to-use tools for creating custom course content using the product's resources. Each course in Courseware is made up of a series of modular assignments instead of longer lectures. This requires less ahead-of-time prep from the instructor and presents content in bite-sized, easily re-viewable chunks for students.
In Courseware, instructors can:
Create assignments using 3D model views, animations on physiological processes and pathologies, Flashcard Decks, and custom Tours.
Add their own content (PDFs, PowerPoints, Word documents, etc.)
Create or use premade questions of various types (multiple-choice, short-answer, and dissection) using Courseware's extensive quiz bank.
Assign dissection quizzes, in which the name (or functional description) of a structure is given, and students must select that structure on an interactive 3D model.
Instructors who use Courseware have access to a wealth of premade resources like Flashcards, Tours, and lab activities. Complete Anatomy does not have guided curriculum resources.
Part 1 of Prof. Tomer Kanan's webcast on using Visible Body in a cadaver lab.
The structure of most of the premade courses in Complete Anatomy is to create a series of lectures, each with an accompanying presentation that uses views from Complete Anatomy. When creating a lecture, instructors can incorporate views that come with Complete Anatomy, or they can use views they've previously saved.
Complete Anatomy has around 93 premade quizzes instructors can choose from, as well as a question bank instructors can use to build their own quizzes. The standard format for quizzes in Complete Anatomy is for students to select the name of an indicated structure in a multiple-choice style question paired with a saved view.
Ultimately, then, Complete Anatomy is a good choice for instructors who want to make and share primarily lecture-based course content. Courseware, on the other hand, gives instructors a toolbox of assets they can mix and match to create interactive modules and quizzes for students to complete.
Student User Experience: Interactive Lessons
One of the main arguments for adding 3D anatomy education tools to a course is that interactive technology can be an invaluable tool in boosting student engagement. Instead of reading a static textbook, students have the freedom to explore and investigate 3D models on their own.
Courseware gives students control of their own learning experience, and its focus on visuals and student-directed exploration makes it a great choice for visual learners.
Assignments in a Courseware course can include interactive 3D models, illustrations, animations, and histology slides alongside the text.
When exploring a 3D model, students can add, remove, and fade structures in the 3D view. They can highlight different structures to see descriptions in the info box and they can listen to a pronunciation.
The default A&P course that comes with Complete Anatomy contains 42, 1hr+ lectures that present the basic A&P topics students need to know. The lectures are structured such that students listen to the audio and watch the presentation, then take a quiz to check their knowledge. Students can manipulate the 3D models at certain points in the lecture, but their interactions with those models are restricted to the structures their instructors have highlighted.
Bringing It All Together
On the surface, Complete Anatomy and Visible Body Courseware look pretty similar to one another, but they differ along the dimensions of price, portability, content, and user experience in some significant ways:
Both have student licenses and institutional subscriptions, but Visible Body Courseware's two-year student license costs a little more than half as much as two years of a Complete Anatomy student subscription.
Students and instructors need to install Complete Anatomy on a computer or tablet for full functionality, whereas Visible Body Courseware is web-based.
Complete Anatomy has more cross-sections, but Visible Body has more easily accessible muscle animations. In addition, Visible Body's related content box makes it easy to access content like muscle actions, cross-sections, and physiology animations.
Courseware users can create custom Flashcards and Tours or choose from our library of premade content. Flashcards and Tours are easily shareable across accounts. Complete Anatomy does not have a Flashcard feature, and custom content shareability is limited.
Both products include a set of premade quizzes. Courseware has dissection quizzes and a quiz bank that allow instructors to mix and match questions easily.
Assignments in Complete Anatomy are in lecture format, but Visible Body's assignments are made up of interactive modules.
We hope you find these considerations helpful in your search for a 3D anatomy education product that fits your classroom and your instruction style!
---
Be sure to subscribe to the Visible Body Blog for more anatomy awesomeness!
Are you an instructor? We have award-winning 3D products and resources for your anatomy and physiology course! Learn more here.