Visible Body Office Hours Session 4: Prof. Cindy Harley
Posted on 6/24/20 by Laura Snider
Office hours aren't just for students anymore. That's right—now you can ask questions and hear from fellow instructors with Visible Body's Office Hours series!
This is the third part of the VB Blog series on our new Office Hours sessions for instructors! You can check out the first part here, the second part here, and the third part here.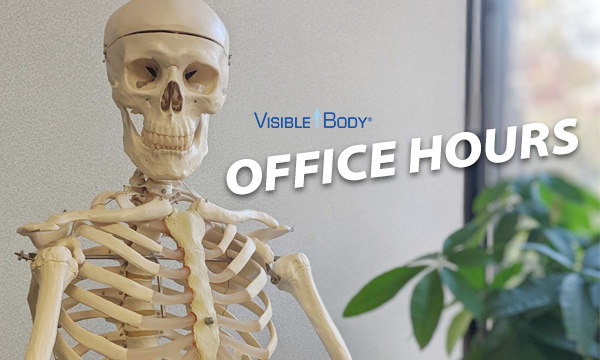 In this post, we're going to summarize the highlights of the third Office Hours, featuring Prof. Cindy Harley from Metropolitan State University. We'll also let you know how you (yes, you!) can get involved with Office Hours!
Office Hours #4: Cindy Harley, PhD - Metropolitan State University
Cindy Harley is an Associate Professor at Metropolitan State University, where she teaches Anatomy & Physiology and Comparative Physiology. She is also the author of a two-semester sample A&P course in Courseware and several Visible Body lab manuals. If you're interested in hearing a detailed discussion of Cindy's switch from traditional textbooks to 3D anatomy technology, check out this webinar from last summer!
Cindy began her presentation by briefly describing why she thinks 3D anatomy apps helped her students improve their performance in A&P. Since today's students are more tech-savvy than ever, she's found that using Visible Body is like "speaking their language." Because it utilizes their technological skills and is modular in structure, Visible Body is more engaging for students than a traditional textbook. She's also found that students like learning from videos, so she's created short videos to use alongside the app assets in Courseware.
One of the factors that influenced her adoption of Courseware was its cost-effectiveness. When students purchase Courseware, it costs them $50 and is good for two years. This means that students can use Courseware for multiple courses as they progress through their degree program (or, if a student doesn't pass A&P the first time, they can take it again without having to pay for another subscription).
Cindy mentioned that using Visible Body has changed her style of teaching a bit as well. She uses Courseware to combine Visible Body's assets with her own materials and to administer quizzes. That saves her a lot of time on grading! She doesn't use PowerPoints anymore—rather, she goes through structures on an app, usually Human Anatomy Atlas, while lecturing. She notes that when she was using PowerPoint, she would tend to read off the slides, so using Visible Body during lecture helps create a more conversational class atmosphere.
Cindy even uses Visible Body when lecturing in the Comparative Physiology course she teaches. She doesn't require students to purchase Human Anatomy Atlas, but many of them buy it so that they can better understand human anatomy and physiology.
In addition, having Courseware made the change to an online class much easier. Because so much of the structure of the class was already online, transitioning to distance learning didn't feel quite as abrupt or intimidating.
Q&A: Going PowerPoint-free, comparing Visible Body to competitors, time management, and using VB resources in the classroom
The Q&A session starts at around 15:45—here are some highlights.
How do you move away from PowerPoint lectures while still making learning goals clear to students?
"Going PowerPoint-free is not for the faint of heart," Cindy told the instructor who asked this question. Fortunately, Cindy also had some great tips for moving to a PowerPoint-free lecture style.
First, she explained that at the beginning of each unit in her Courseware courses, she includes a "guided notes" Word document so students can see what they will be expected to learn. Essentially, the guided notes walk students through the learning objectives. Students like to use these documents as study guides.
As for how to begin to transition from PowerPoints to 3D visuals, Cindy suggested going through PowerPoint presentations and making notes that align your slides' content and specific assets in Visible Body's apps. (In the example Cindy showed, she used modules from A&P.) This way, students can "follow along" with the PowerPoint by viewing app content and taking notes.

How does Visible Body compare to similar products?
Cindy likes that in Visible Body's products, you can open up the apps and know what to do with them right away. That's not the case with many other products—the content in other apps and software is not as guided as it is in Visible Body's apps, so in that way, some of those products might be better suited for patient education rather than teaching.
Noting that the "and" in Anatomy & Physiology is very important to her, Cindy also added that Visible Body stands out from its competitors in terms of the large amount of physiology content its apps contain.


When using Visible Body for an online course, how much time is spent guiding students through material and how much time do they need to devote to working through material on their own?
Cindy explained how she set up her course for the transition to remote learning. She created short videos to take place of her larger lectures—these were both easier to shoot than longer videos and more friendly to students' ability to give their undivided attention. Usually, a lecture topic was broken down into four, ten-minute videos, which were interspersed with 3D views and A&P modules on Courseware.
Students also participated in two, one-hour recitation sessions with Cindy over Zoom, where they could ask questions and Cindy could talk them through concepts using Visible Body and a digital whiteboard.

How do you use Visible Body when you're in the classroom?
When not teaching remotely, Cindy alternates between going through structures in Visible Body and using the whiteboard in a more traditional lecture format. When using Visible Body, Cindy mirrors/projects her iPad screen to the display in the classroom. If she takes notes or makes drawings in one of the apps, students can see that. She also uses a note-taking program to make flowcharts and other more detailed notes.
To help students review later, Cindy records her lectures. She noted that having recordings of lectures is also helpful for students who are English language learners—if there's content they didn't completely understand the first time, they can go back and go through it again.
Now that Cindy is recording videos from home, she uses a green screen to project 3D views of anatomical structures behind her.
How to attend Office Hours
So, how do you attend a Visible Body Office Hours session? Make sure to sign up for our email list. We'll notify you about upcoming Office Hours sessions a few days in advance and provide a Zoom registration link. And if you don't have time to attend, don't worry—all the Office Hours videos get posted to our YouTube playlist so you can stay up to date!
---
Be sure to subscribe to the Visible Body Blog for more anatomy awesomeness!
Are you an instructor? We have award-winning 3D products and resources for your anatomy and physiology course! Learn more here.