How Visible Body is handling the increased demand for virtual 3D anatomy learning
Posted on 7/22/20 by Maite Suarez-Rivas
Visible Body has been in the education technology business for over a decade. Before this spring, we had over a thousand institutions around the world using our products. Then came the third week of March this year. Schools and colleges across the U.S. were sending students home and asking instructors to continue to teach from afar.
In the past four months, over a thousand more instructors and 30,000 students used Visible Body to finish their semester online. Here is what we learned working with educators this spring, how we adapted, and what we have planned to continue to meet the needs of students and educators.
We changed our usual trial model to fit the crisis.
From mid-March through June we offered Courseware free to all instructors and their students.
Before this spring, most schools adopted our product in a process that took a few months: college instructors asked for a free trial, reviewed our software, consulted with their colleagues, and decided to adopt. Then we would work with instructors on the purchase process, establishing whether students would purchase individual access or the school would purchase a site license group subscription. Finally, we'd work with instructors on any training needs.
This spring, mid-semester, all of that work got squeezed into days. The urgency came from instructors who reached out to us:
"I am looking for easy, already made online assignments for our emergency "online migration" for the next month and a half, to finish this semester."

"Our school is going to complete online instruction until the end of the spring semester of 2020. My biggest challenges are how to convert my face-to-face classes to online, deliver high-quality content, and how to assess the students over the content."

"[There is an] abrupt transition from face to face to online in [the] middle of term."

"We were supposed to remove the cadavers' brains next week."

"It's all virtual from here on out—no models, no skeleton, no classroom!"
That third week of March, we heard from over 300 anatomy instructors who were searching for ways to finish the semester. These instructors were quickly reviewing and adopting within hours! It took us three days to make a bold decision: we'd offer Courseware FREE to them AND their students.
Why did we do this? The volume of orders was more than ten times our usual, college billing offices had procedures for getting costs approved that took days, and instructors at schools without budgets for this crisis had concerns about asking students to purchase additional resources mid-semester.
With cost approvals and billings out of the way for the semester, we could focus on getting instructors and students on board!
We paused a lot of selling and increased our individual and group training.
It takes an instructor about an hour to get started with our Courseware software. They activate their instructor account, select a premade course that most closely matches their syllabus, make any desired edits, and invite students! Many instructors use our support site tutorials to do this on their own. Others request an hour-long session.
A quick how-to video from the Visible Body Support Site.
This spring we received a lot of requests for those hour-long sessions:
"I was hoping to be able to build custom laboratory exams (I.D. the muscle, etc.) for my students, but have minimal experience using Visible Body (use it in laboratory—the University has a site license)."

"[I am] teaching online for the first time. I need help to do online labs, lab quizzes and lab exams/tests."

"I am completely [an] "analog man" suddenly thrust into a digital world."
Our sales team knows the Courseware software really well. They joined ranks with our training team, and we expanded our training program so that every instructor who had questions got fast answers and help. Throughout March and April, we hosted hundreds of individual training sessions and dozens of Zoom group training webinars that any instructor could join. Our small sales team pivoted from sales presentations to answering questions, and the feedback from instructors made everyone's day, every day!

"I picked up so much from you [in the training session] and more in the short time I had on Friday that I'm getting much more set on making this a long term change. Thank you so much for your time & patience."
"Believe me you will not be able to get rid of me once I start using the system. I am finishing up with Special Senses and I am planning on using the system for the chapter on Blood and Circulatory system."
Custom design your own visual and interactive virtual courses with Visible Body Courseware.
Some of our most devoted customers are instructors who have been teaching hybrid courses, totally online courses, or using technology in face-to-face lectures and labs. When we asked if they'd be willing to help, we got a lot of yeses!
For the first time, we launched instructor-to-instructor office hours. Instructors new to online technology got ideas for challenges like these:
"At the moment I'm just giving [students] pictures and [labels] and linking to YouTube videos, but this is not terribly engaging."

"I'm struggling with the creation of meaningful lab activities."
The instructor-hosted office hours showed examples of how to lecture online, host virtual labs, and transition course materials. These sessions were a huge hit; over 500 instructors attended! We've relied so much on the VB instructor community these past three months, and are incredibly grateful for their time and enthusiasm.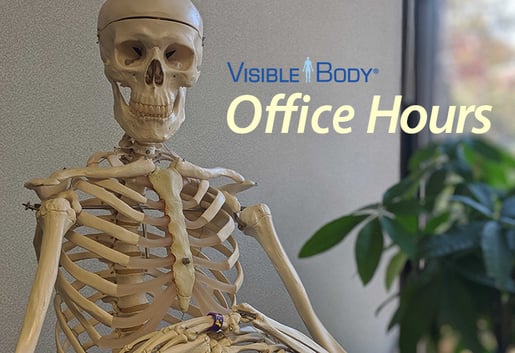 Check out our Office Hours playlist on YouTube!
We are continuing to evolve and to meet instructor and student needs.
Our education team training sessions and instructor-to-instructor office hours are now part of our support offerings, and we are rolling out more!
The spring semester is over, and everyone took a deep breath and a short vacation. We are already back at work, listening and responding to the needs of our new customers and the general instructor community. Our customer base is changing from instructors who had some experience teaching online, to many instructors for whom this virtual teaching experience was not a choice but a necessity. Putting aside what brought instructors to use more educational technology, we hear a lot of similarities in their challenges and requests:
Our expanded free access program helped many instructors and students finish the semester; over half of those schools have already adopted Courseware for fall and have become subscribers. Here's what some of these instructors had to say:
"Thanks for providing this service during the COVID crisis. I will remember this kindness when I start looking for new materials for my other courses taught in the Fall semester."

"I am so grateful that you are allowing free access to your EXCELLENT platform that I have been trying to get my school to implement!!! Thank you for your generosity for the next few months!!!!!!!"
To meet instructor needs, we've doubled the size of our customer support and training teams, and we are expanding our instructor-to-instructor community events.
When we reflect on our collaborations with instructors this past semester, it has become even more clear how much of our work is about partnering with educators and students to navigate change. Digital transformation takes time. This semester, our Courseware product started many instructors on a journey, and our plan is to continue to provide the training and community that improves healthcare education for all.
---
Be sure to subscribe to the Visible Body Blog for more anatomy awesomeness!
Are you an instructor? We have award-winning 3D products and resources for your anatomy and physiology course! Learn more here.