How Does Visible Body Courseware Compare with Pearson's Mastering A&P?
Posted on 2/3/21 by Laura Snider
If you're a regular reader of the VB Blog, or if you've been keeping an eye on recent tech in education trends, you'll know that lots of instructors are looking for ways to bring their courses' textbook(s) to life with online resources. Many textbooks even come with their own set of digital study tools that can be accessed with a code.
One popular online textbook subscription resource is Pearson's Mastering A&P, so today we'll be comparing that with our own web-based anatomy education platform, Visible Body Courseware. We hope to give you some food for thought about which tool might be right for your classroom or lab based on textbook correlation, cost to students, digital cadavers, quiz and study aid content, and video content.
A textbook with tech vs. tech with a textbook
At the most macro level, the key difference between Courseware and Mastering A&P is that Mastering is intended to be used to supplement a textbook, whereas Courseware can be used on its own or paired up with your favorite textbook.
Let's take a look at how each product matches up with textbook use.
Mastering A&P is available for around 23 A&P textbooks and lab manuals (n.b. this number applies only to the US and Canada). These titles include popular, widely-used textbooks such as Marieb & Hoehn and Martini et al. The content in the Mastering bundle for each title is correlated closely with the way the textbook is structured, so in that sense Mastering A&P is a true online companion for these books.
Every element of Visible Body Courseware is highly customizable, and our textbook correlation capabilities are especially flexible. Our education team has created a large selection of premade courses tailored to a similar list of popular textbooks, with the addition of courses in dental anatomy, anatomy for speech and hearing science, kinesiology, and exercise physiology. If you're looking to use Open Educational Resources (OERs) such as Open Stax, we have courses on our list to suit your needs as well.
Courseware can even be used in place of a traditional textbook! For more information on making the switch from a traditional textbook to digital anatomy education resources, check out this webcast by Dr. Cindy Harley of Metropolitan State University.
The main point here is that when it comes to textbook correlation, Mastering A&P is highly specific, which is good for courses that adhere closely to a particular, commonly-used textbook, but Visible Body Courseware provides a wide range of textbook correlation options. Essentially, Courseware can be adapted to fit any A&P textbook or A&P course curriculum.
Cost to students
We say this a lot on the VB Blog, and I'll say it again here: traditional textbooks are expensive. Because Mastering A&P is meant to be used alongside a traditional textbook (or the eText version of that traditional textbook), cost to students is an important factor to consider if you're thinking about using Mastering A&P in your classroom.
Let's say you use the Marieb & Hoehn "Human Anatomy & Physiology" (11th ed.) textbook. Students can purchase a new copy of this book, with Mastering and eText access, for around $266 (it's $266 from Pearson, $279 new from Barnes & Noble). Students can likely save some money by buying their textbook used or buying only the eText version from Pearson. If they want just the eText and Mastering access, the price drops to $119. A standalone Mastering A&P access card for this textbook from Pearson is priced at $139.99.
With Visible Body Courseware, students can buy a used copy of Marieb & Hoehn and not have to worry about getting an access code to Mastering. A two-year student subscription to Courseware is only $49.99, which means they'd be spending a lot less on a used textbook and Courseware than on a used textbook and an official Mastering access code.
In addition, if you use an OER like the OpenStax A&P textbook, students would only have to pay for the Courseware subscription. In institutions that have a Courseware site license, students wouldn't have to pay at all.
Because many A&P courses last more than one semester, Mastering A&P access codes are valid for up to two years. After that, students lose access. With Visible Body Courseware, students can keep the mobile versions of the apps even after their subscription has ended, so they can use them for reference in future courses and in their careers.
Digital cadavers
Students can't be in the lab all the time, so a reference tool they can use outside of class is a must. Both Mastering A&P and Courseware offer their own reference tools—Mastering has Practice Anatomy Lab (PAL) 3.0 and Courseware has Human Anatomy Atlas 2020.
PAL contains cadaver photos of various body systems and structures, as well as photos of plastic anatomy models of different organs. It also contains a comprehensive collection of histology slides for various organs and body tissues. One of PAL's coolest features is that it contains animal models that are frequently used in A&P lab dissections, such as a cat, fetal pig, sheep organs, and cow eye.
When it comes to information about the structures students can see labeled in PAL, they don't get a lot more than just the label itself and a pronunciation. In addition, all the images in PAL are 2D.
In contrast, Human Anatomy Atlas provides full 3D models of the male and female body, which students can manipulate, dissect, annotate, and view in AR. Atlas also contains moving muscle animation models, microanatomy models, cross-section models with corresponding CT/MRI scans and cadaver slices, and interactive dissection quizzes (more on those later).
When students select a structure in Atlas, they can see an info box which contains a definition, pronunciation, related structures, and landmarks or structure details such as origins/insertions, blood supply, and innervation.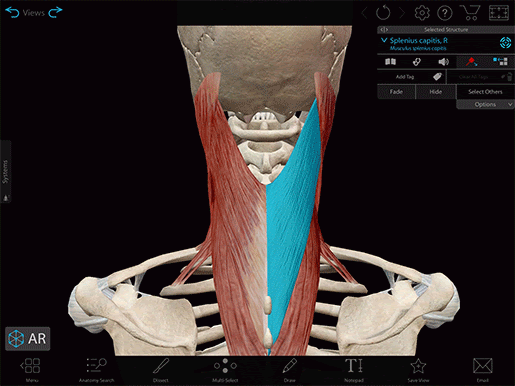 Muscle details in Human Anatomy Atlas.
All in all, Human Anatomy Atlas provides a more interactive digital dissection experience than PAL. Also, although PAL is good for studying on a desktop, Atlas is available as both a web and a mobile app with Courseware. This means that students have access to models of the human body in full 3D anytime, anywhere.
Quiz and study aid content
One of the strongest points in Mastering A&P's favor as a product is that it has lots of quizzes and activities for students to use as study aids and/or homework assignments. With Mastering A&P, students have access to flashcards, structure identification quizzes, multiple-choice questions, and fill-in-the-blank labeling quizzes. These are features that students really tend to like.
The good news is that Courseware is also full of quizzes and activities. What's more, you can create your own and customize them to the course you're teaching! Students who like the structure identification quizzes will love the interactive dissection quizzes in Courseware. Dissection quizzes go beyond traditional structure identification by asking students to select structures on a fully interactive 3D model instead of just adding a name to an already-labeled structure.
With our quiz and question banks, you can write your own multiple-choice, short-answer, and dissection questions or choose from our premade ones to make quizzes that are just right for checking your students' knowledge.
For flashcard and fill-in-the-labels quiz fans, the Human Anatomy Atlas mobile app that comes with Courseware has features that push taking notes to the next level. With Tags, students can create their own labeling quizzes with 3D models they can manipulate. All they have to do is add tags to the structures they want to quiz themselves on, then set those tags to blank in the Settings menu.
The 3D Draw and Notepad features in Atlas allow students to add arrows, circles, text notes, and much more to 3D views. They can then save those notes and return to them for later studying.
When it comes to quizzing and study aids, Mastering A&P definitely has a solid selection of reliable resources. Courseware, however, lets instructors and students think outside the box and customize their teaching, learning, and studying experiences with innovative, interactive tools.
Video content
One of the advantages of using technology alongside a textbook is that an online resource allows instructors to incorporate video content. These videos can take a textbook's stationary animations and bring the concepts they illustrate to life for students.
Given that Mastering A&P is intended to be a digital companion for textbooks, it probably isn't surprising that it has a sizeable amount of video content. The videos that accompany textbook chapters in Mastering A&P are around five minutes long and contain a lecture-style narration accompanied by a series of illustrations and/or animations. They enhance the traditional textbook experience by providing anatomical overviews and illustrate key physiological concepts. However, the visuals in these videos are fairly dated—the videos play much like collections of lecture slides.
Video content is an area where Visible Body's apps like Anatomy & Physiology and Physiology Animations really shine. The videos in these apps are truly short and sweet—they're usually around a minute long. Produced by biomedical visualization experts, they present visually-engaging 3D animations of everything from normal physiological processes to common pathologies. In that sense, they truly bring A&P content to life instead of moving through a series of illustrations. What's more, the bite-sized nature of these videos is great for a quick introduction or for brushing up on important concepts before an exam.
Prof. Blythe Nilson explains how short 3D animations help students master physiology concepts.
What do students think?
When we sent a survey to students who had just completed a trial of Courseware, their preference for Courseware over Pearson's Mastering (which they had been using before) was clear. Overall, students rated Courseware as easier to use, more engaging, and more easily accessible for on-the-go studying. They also reported that Courseware motivated them to study more, and had higher-quality animations and artwork.
Here's the data:
Visible Body

Pearson's Mastering

I don't know/NA

Total

Ease of use of the program

71.43%
15

28.57%
6

0%
0

21

Helping me learn difficult concepts

80.95%
17

14.29%
3

4.76%
1

21

Making the subject matter interesting and engaging

100%
21

0%
0

0%
0

21

Mobile accessibility anywhere at any time

75%
15

5%
1

20%
4

20

Motivating me to study more

85%
17

10%
2

5%
1

20

Quality of animations and art work

100%
21

0%
0

0%

0

21

So what are the take-home points?
Mastering A&P is a comprehensive digital companion for many of the most popular A&P textbooks. Although its content is informative, thorough, and closely correlated with the textbook, Mastering does not allow for a ton of customization. Its visuals and quizzing tools also lag behind the cutting edge.
We at VB maintain that course customization doesn't have to be difficult or time-consuming. If you want a visually vibrant, engaging course that's tailored to a textbook AND customized to your instructional style and your students' learning style, it's quick and easy to create one in Courseware (and we have a fantastic support team here to help you if you need it)!
---
Be sure to subscribe to the Visible Body Blog for more anatomy awesomeness!
Are you an instructor? We have award-winning 3D products and resources for your anatomy and physiology course! Learn more here.