College Libraries After COVID: Looking Towards the Future
Posted on 4/21/21 by Laura Snider
In our ongoing series of blog posts about higher education during and after the COVID-19 pandemic, we've focused primarily on the experience of moving to remote or hybrid learning from the perspective of instructors and students.
However, a college or university's library is its heart, providing social, scholarly, and technological resources to students, faculty, and members of the community. That's why we wanted to dedicate a blog post to looking at what the pandemic means for libraries, based on a collection of recent research and blog articles as well as the panels at "The Campus Library," a forum hosted by the Chronicle of Higher Education and Perkins Eastman. (Full disclosure: attending this webinar made me super nostalgic for my own college library!)
In this post, we'll examine the future of the college library by exploring the shift to digital collections that was already happening before COVID, the role libraries will play in hybrid education and work, and how libraries will continue to provide spaces for collaboration and creativity once students are back on campus.
An increasingly digital and open-access future for libraries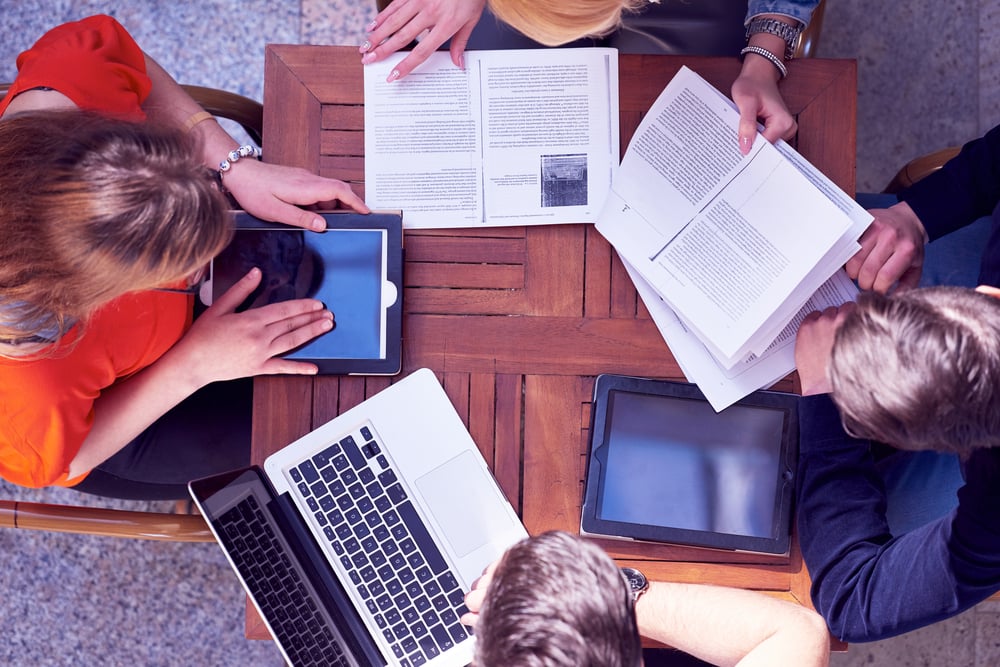 Even before the pandemic, academic libraries have been growing their digital collections and participating in digital scholarship and open source initiatives. The panelists at the Chronicle/Perkins Eastman webinar confirmed that this shift has been a long time in the making and that COVID had really brought the necessity of accessible resources and technological flexibility into the spotlight. For example, Alexia Hudson-Ward, Associate Director for Research and Learning at MIT, highlighted how the MIT Libraries' digital-first philosophy is more important now than ever. In their updated mission statement, MIT Libraries make clear their goal of shaping the university library into "a platform for the creation, discovery, use, dissemination, and preservation of knowledge that is fully open and equitably accessible."
EduCause reports that we are already starting to see ways in which COVID could push libraries further into the digital future. Print textbook reserves have already been going out of style, and the fact that students were pushed to remote learning during the past year accelerated their path towards obsolescence. Even multiuser e-textbooks have proven difficult for many libraries to acquire. Joe Lucia, the Dean of Libraries at Temple University, mentioned in the webinar that during COVID, enthusiasm among the faculty and administration grew for textbook affordability initiatives, such as Open Educational Resources (OERs).
The author of the EduCause article argues that, post-pandemic, print textbook reserves should be replaced with digital resources that are more readily accessible to all students. Traditional textbooks, which are often expensive and cumbersome, could be replaced by open source/OER equivalents (like OpenStax), a more interactive digital resource, or some combination of the two. Many A&P instructors use the OpenStax A&P textbook alongside Visible Body Courseware, for example. What are the advantages of replacing traditional textbooks and print reserves with digital alternatives? Students get more convenient access to course materials at a lower cost, since they don't have to buy an expensive textbook or go to the library in person to borrow a reserved copy for a restricted amount of time.
A recent editorial by L. Angie Ohler and Joelle Pitts in College & Research Libraries News elaborates on how libraries can achieve such a "repositioning and reframing [of] our spaces as hubs for new learning and research, where open science and publishing are the focus, the starting point for data services, curation, and management." Post-pandemic, money will be tight, and journal subscriptions aren't getting any less expensive. It will be important for libraries to foster the growth of open access publication initiatives and consortia while continuing to maintain collections in a way that caters towards the resources faculty need and will actually use. Libraries will need to devote resources (such as staff, money, and physical spaces) to developing new services to meet the needs of students and faculty who will be working and learning in a hybrid format.
Libraries and hybrid models of education and work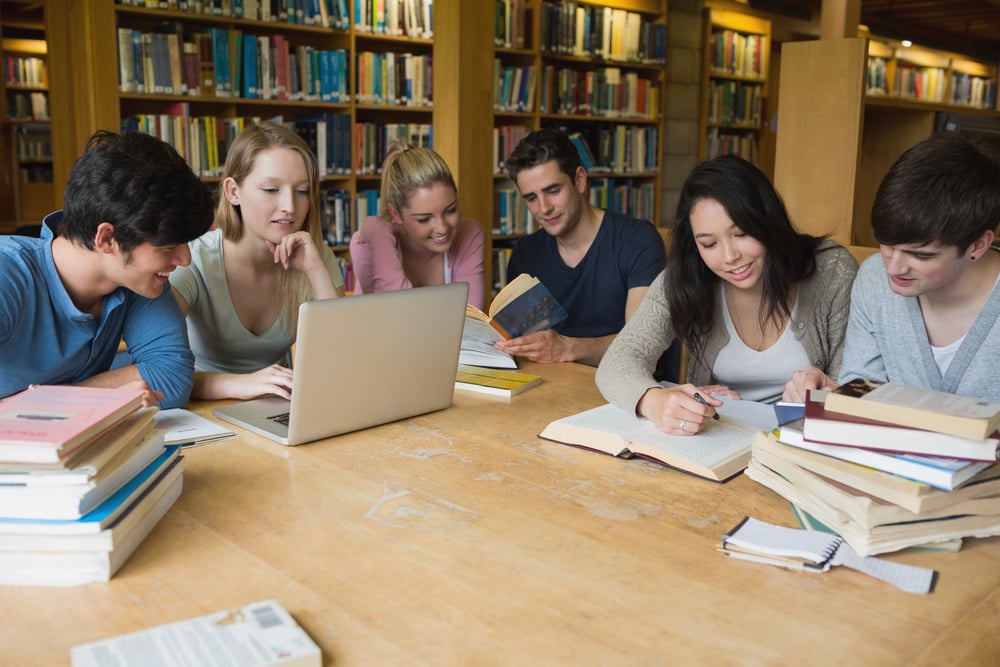 Just like most employees in both the public and private spheres, university faculty and library staff members have had to engage in remote and hybrid work models in the last year. This is prompting many to wonder what work culture and the service model at university libraries will look like as a result of these mandatory hybrid work experiments. Will more library staff members work remotely? What about faculty? How will the use of library spaces adapt to this shift?
The panelists from the Chronicle of Higher Education webinar noted a few ways in which libraries could accommodate a hybrid working environment. More "hoteling" space—that is, flexible office space for faculty and staff who alternate between working remotely and working on campus—in the library is one possibility. Another is for certain library services, such as research consultations, to be offered online. This would allow library staff to work remotely and wouldn't require students to come to the library (or even to campus) either.
In a recent Library Journal article, Christopher Cox and Elliot Felix detail several visions for post-COVID libraries, all of which inspire a more accessible, equitable work and study space for everyone. They envision the library as a learning commons that includes makerspaces and the campus tutoring and writing centers, with a common online portal for scheduling. Library services, such as the aforementioned research consultations, could be offered both online and in-person, catering to a student body that learns in a more flexible way. Similarly, libraries could establish study spaces across campus, not just in the main library building, and could offer an online scheduling tool for reserving those spaces.
"Libraries are social infrastructure:" libraries as community spaces on campus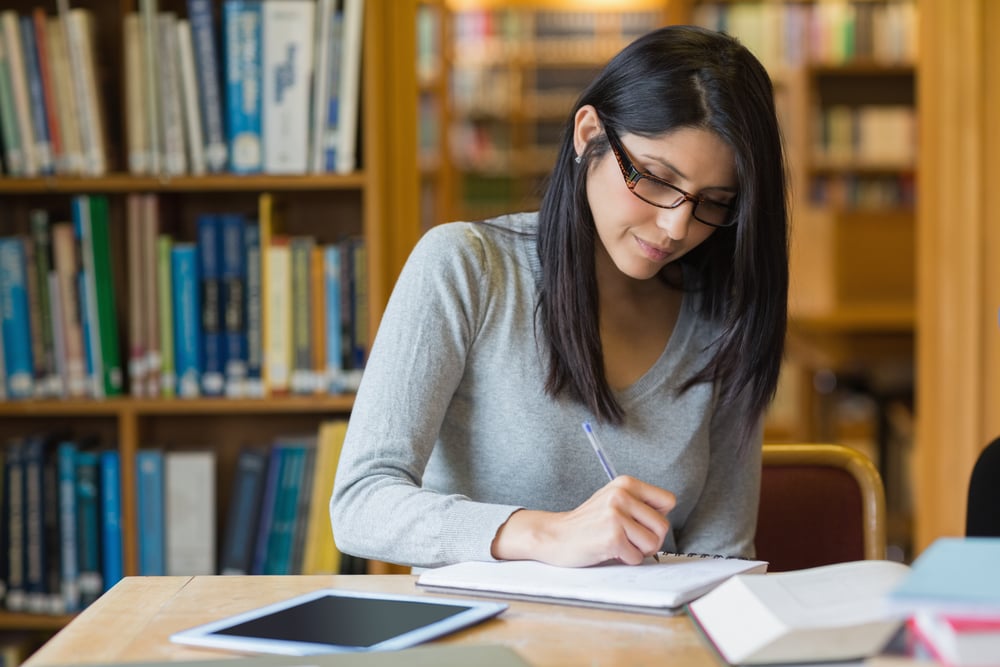 Though they may have had access to online collections and resources, many students lost access to the physical spaces of their college libraries this past year—and as much as we like to say that the future is digital, the campus library still plays a central role in university life.
Mary Ann Mavrinac, vice provost and Andrew H. and Janet Dayton Neilly Dean at the University of Rochester, referred to libraries as "social infrastructure" during the Chronicle of Higher Education panel, and she couldn't be more right! She and the other panelists had a few ideas about how libraries can serve as spaces for community, collaboration, and creativity once students return to campus.
First of all, traditional reading rooms remain popular among students! Not everyone has an ideal quiet environment for studying at home, so the library isn't just a source of books—it's a studying refuge for many students.
The library can also provide resources for group projects, from meeting and work spaces to makerspaces, which give students access to cutting-edge technology that they might not be able to afford on their own. This includes VR headsets, AR technology, and 3D printers. The University of Rochester's library will be adding a technological creative space, called Studio X, that includes these sorts of immersive technologies. MIT, too, will be updating its library facilities to better serve as an "intellectual sandbox" for students.
Last, but certainly not least, libraries are often a source of cocurricular education and wellness programs. They can partner with different offices or groups on campus to host community events, either in-person or virtually. For example, a library could team up with their institution's Office for Graduate Education to offer virtual coffee hours.
Ultimately, there are many creative ways for libraries to adjust their service models and spaces to suit the changing needs of students and faculty. These efforts will undoubtedly require support and funding from university administration, but investments like the ones described above will build a foundation of technology, research, and community that will foster student engagement and success.
---
Be sure to subscribe to the Visible Body Blog for more anatomy awesomeness!
Are you an instructor? We have award-winning 3D products and resources for your anatomy and physiology course! Learn more here.