5 Topics That Have College Students and Instructors Talking
Posted on 1/28/20 by Maite Suarez-Rivas
In 2019, the team at Visible Body hit two all-time highs:
We sold subscriptions to over 1,000 academic institutions
About 400 healthcare practitioners, instructors, and students contacted us each week
We learned a lot from these customers and thought we'd share 5 trends that have the healthcare education community talking.
The number of students taking online courses and the diversity of post-secondary degree and certification programs are both growing!
The U.S. Department of Education counts just under 20 million students attending U.S. colleges. Most of those are undergraduates; that's not surprising. But what is surprising is that most of these students aren't the just-graduated-from-high-school and moving-into-the-dorms typical student of decades past.
Lower birth rates since 2007 mean a double digit decrease in the number of high school students entering college. Combo that with the fact that more and more jobs require post-high school education; some of the 36 million students who left college without a degree know it and are returning to gain the skills needed to improve their careers. Recent numbers show that at four-year colleges, most students (63%) are over the age of 25 and 1 out of every 4 is attending part-time. At community colleges, most students are part-time and over 25 years old.
Over three million students have taken an online course, and those offerings are expanding.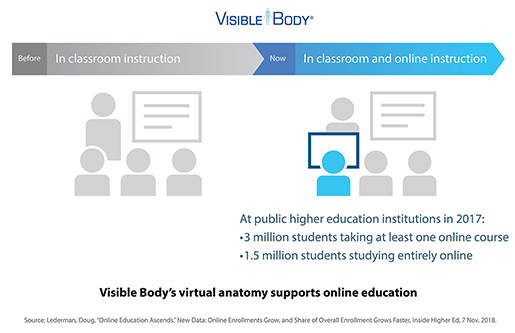 Schools are busy with innovations that attract and meet the needs of these nontraditional students. Lots of schools are offering online courses, study-to-work programs, and ways to reduce costs. For example, we talked to lots of anatomy instructors and program chairs about using Courseware to deliver engaging online virtual anatomy labs at a reasonable price.
Augmented reality solves some real challenges in healthcare practice and healthcare education.
Why does AR get so much attention in healthcare education? It gets students engaged and playing with anatomy models as a way to learn!
When Apple and Google brought augmented reality to phones in 2018, the Visible Body team incorporated that technology into its Human Anatomy Atlas so that iPhone and Android users could interact with 3D virtual anatomy models in AR.
In 2019, the Visible Body team worked with Google to make available more than 100 free, web-based 3D human anatomy models that can be viewed in AR using a phone or tablet.
Visible Body added augmented reality to its Human Anatomy Atlas mobile apps and to its free anatomy learning site.
But will augmented reality fade as last year's new thing or stay as a solution for anatomy teaching and learning?
AR looks like it's here to stay! The number of AR patents continues to climb. Also climbing is the number of hospitals and colleges trying out the technology as a way to better train surgeons and help patients. This means that for today's allied health, nursing, and medical students, not only is AR an engaging way to learn, but familiarity with AR will get them trained for when they use it in the workplace.
This ten-minute summary of Porter and Heppelman's Harvard Business Review article, Why Every Organization Needs an Augmented Reality Strategy shares the benefits of using AR to transform education and training. What's their research conclusion? Using AR technology, students can work with real objects and participate in class—that leads to better learning than reading or passively listening to a lecture. Employers are reporting 30 to 50 percent improvement in human productivity for operations that can be optimized with augmented reality. Now that feels like a technology that'll stick around!
Anatomy bootcamps are helping students succeed.
Anatomy bootcamps are showing results and growing in popularity. Some are mini courses, while others are day-long intensive study-skill sessions.
Here are a few examples:
NECC offers a free three-week summer bootcamp for students who will later enroll in A&P
Middlesex County College offers a 5-day bootcamp for students about to start A&P
La Guardia Community College has a one-day bootcamp for students entering A&P
A couple of schools have even published the results of bootcamps on student performance. At Lincoln Memorial University, the anatomy bootcamp led to a "faster head start for boot camp participants." Similarly, when West Virginia Wesleyan ran an anatomy boot camp to try and improve the high D and F rates that were at 50% for the undergraduate anatomy and physiology course, the D and F rate of students who participated in the bootcamp improved 20%.
What's the take-home lesson of these bootcamps? The skill-and-drill mixed with peer and faculty support inspire student confidence and teach study skills that keep students from falling behind.
Instructors and students are asking a lot of questions about how we present female and male anatomy.
A few years ago, we were discussing with potential customers the pros and cons of using virtual anatomy, but now that so many schools use 3D virtual anatomy models, that conversation has given way to one focused on which virtual anatomy models a school should use. A top concern is how male and female anatomy are presented in 3D virtual models.
A Journal of Anatomy publication summarized the situation best: "Equality and diversity are becoming increasingly important issues." So, what has to change? "Male anatomy and physiology are often represented as the norm, with women being underrepresented in nonreproductive anatomy. The impression is gained that the human body is male and that the female body is presented only to show how it differs." That's a perception we are working hand-in-hand with healthcare educators to change!
Do we have complete male and female 3D models? Yes! (And we've made it easy to alternate or set a default preference!)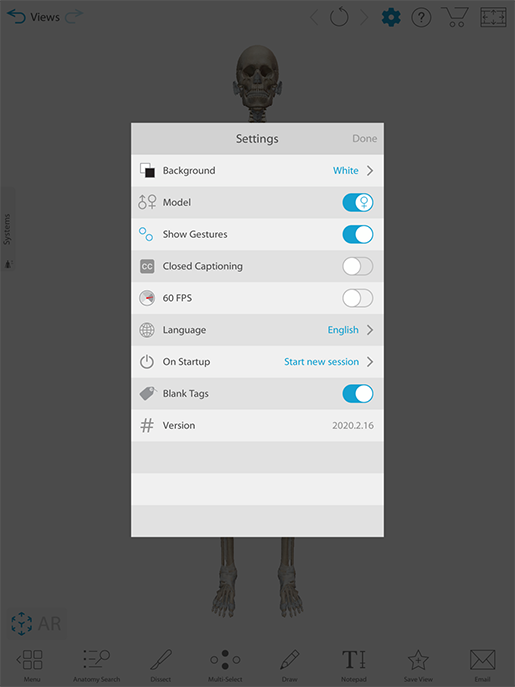 Switching between male and female models is easy in Human Anatomy Atlas.
Instructors have asked us to talk to their medical students about how we present the male and the female models. We've gotten requests on Twitter and Instagram, listened, and added content in response. The goal is to match our products with what instructors and students need—that is always changing and we are always listening. (You can reach us at support@visiblebody.com.)
The interest in college accountability is growing.
"Is this degree 'worth it'?" Students and parents are asking, and colleges and the government are working hard to serve up data that offers insights.
I had a friend whose son, in junior high school at the time, was thinking of college majors and schools. He organized his ideas by writing down the areas of study that interested him and then going online to research the average pay right out of college!
Where was he getting that data? Over the past decade, the U.S. government has collected employment data from newly-minted college grads who received federal grants or loans. Future college students can use that data to help guide their choices in college and degree programs.
The U.S. government also releases data on job growth and average salaries. The team at Visible Body uses that data to create easy-to-share visuals on the growth in types of healthcare jobs and the average salary for different careers.
Overall, students and instructors are interested in how virtual anatomy tools and augmented reality can aid learning. They are committed to improving the quality of anatomy and physiology education by adopting new technologies, putting together anatomy bootcamp programs, and challenging the idea of male anatomy and physiology as the "norm." Visible Body is excited to be at the forefront of these changes!
The population of students is also changing—more and more students are taking courses part-time or online, and a large number of college students are over the age of 25. In addition, many of the decisions students make about their education are informed by researching salary and employment data.
---
Be sure to subscribe to the Visible Body Blog for more anatomy awesomeness!
Are you an instructor? We have award-winning 3D products and resources for your anatomy and physiology course! Learn more here.