3 Tips for Successful Asynchronous Learning
Posted on 9/23/20 by Laura Snider
Today, we'll be discussing the basics of asynchronous learning and go over three tips for how to implement asynchronous learning using Visible Body Courseware.
Over the past few months, the Visible Body team has helped over 1,000 instructors and their 40,000 students make the transition to online teaching and learning. We're constantly looking for ways we can continue to help instructors make the most of online courses, so at the end of August, we attended an Industry Dive Webinar, sponsored by TechSmith and Education Dive, entitled "How to Humanize Asynchronous Online Learning." The webinar is now available on-demand here.
The webinar featured three speakers who specialize in online learning technology: Shane Lovellette from TechSmith, and Aaron Nusz and Margot McGowen from Jefferson Community and Technical College. They discussed what asynchronous learning is (and what it isn't) and how to give online courses flexibility, engaging content, and relationship building between students and their classmates as well as students and their instructors.
They ultimately argued that successful online learning should be:
asynchronous (flexible delivered primarily over text and video)
human (including and encouraging connections between students and instructors)
active (its materials engage students and can be applied to real life experiences)
What is asynchronous learning?
Asynchronous learning is a type of online education that is delivered primarily through text and videos. In an online course that embraces asynchronous learning, students can work through content and assignments at their own pace, instead of having to log in at specific times for regular streaming video or online meetings. In contrast, synchronous online learning aims to re-create the in-person learning experience, requiring students to be online and complete activities at the same time. This article from Bryn Mawr College provides an excellent overview of the differences between synchronous and asynchronous learning.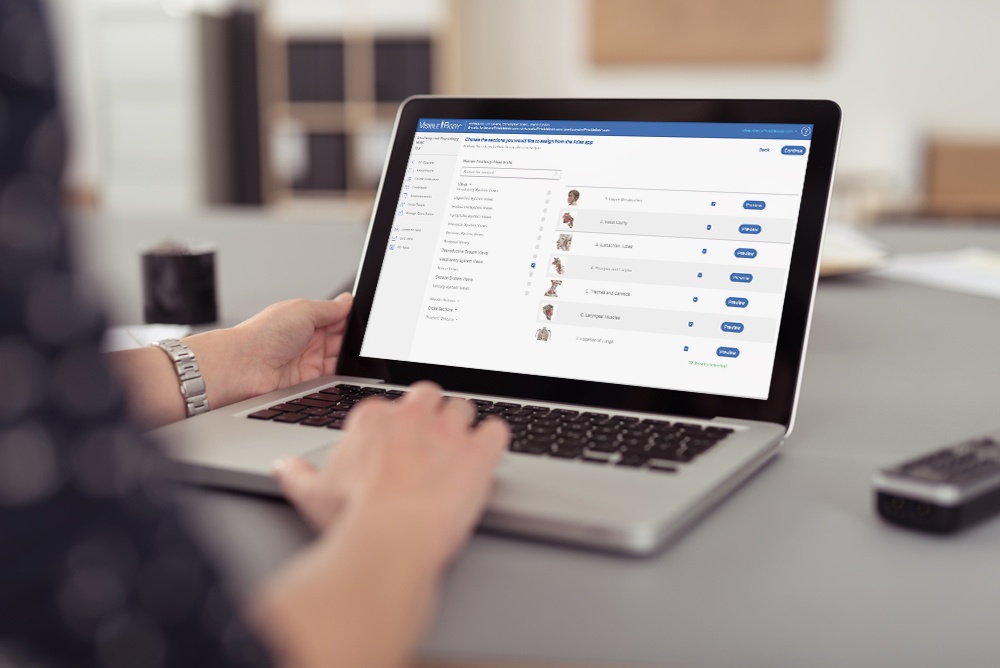 What are the benefits of asynchronous learning?
The presenters at the Industry Dive webinar highlighted the flexibility that asynchronous learning offers to students, especially nontraditional students (students who are over 25 and/or not living on campus), some of whom have jobs and families to support while they are completing their coursework. Asynchronous learning also removes the obstacle of time zones for remote students, allowing them to complete their work at a time that works best for them.
Overall, the presenters stressed that, in addition to flexibility, students want to connect with their classmates and professors. The examples they shared demonstrated that this combination of flexibility and interpersonal connection is just as possible to achieve with a largely asynchronous online course as it would be in a more traditional format.
3 Asynchronous Learning Tips to Try
1. Create a flipped classroom: give information asynchronously but keep synchronous discussion sections.
As previously mentioned, one of the central principles of asynchronous learning is that students can access and work through course content on their own schedule. This means that instructors for online courses need to think carefully about what content is best suited to asynchronous presentation.
Aaron suggested presenting the facts asynchronously—that is, any content that involves students acquiring information through reading or watching videos—but maintaining some synchronous elements in the course, such as regular group discussions or office hours. That way, students can absorb the basic information on their own and then enhance their understanding of the material by participating in an active discussion with the instructor and their classmates. This is the basic principle behind the flipped classroom format.


Visible Body's Courseware platform is well suited for asynchronous content presentation. Within the Assignments folders of a Courseware course, students can work through modules, animations, and 3D views from Visible Body's apps, then test their knowledge using a premade or custom dissection, multiple-choice, or short-answer quiz.
To ensure that students complete their work by a certain time, instructors can easily set due dates and release dates for these assignments. If necessary, assignment due dates can be modified for individual students as well.
2. Make your own 10-15 minute videos to introduce important content.
It may be tempting to assign videos that go with the textbook you're using, but in an online course, students appreciate the personal element of content that's been designed specifically for them by their instructors. Students want to feel important and cared-for—they want to learn from and work closely with faculty.
Using short videos to speak directly to students is a great way to personalize the online course experience for students. According to the webinar presenters, instructor-made videos are a lot more well-received by students than impersonal textbook publisher content. They also help students feel more comfortable knowing what they will be assessed on later.
In her video for the Visible Body Office Hours series, Professor Cindy Harley confirms that students learn well from bite-sized content like this. She makes her own short videos for her courses, and they suit students' attention spans and full schedules well. You don't have to set up a green screen like Cindy does, but making videos for students is a wonderful way to let your creativity as an instructor shine!


Making presentations and videos with Visible Body's apps, and sharing them in Courseware, is easier than ever. By recording your screen, you can quickly create a narrated walkthrough of a Tour in Human Anatomy Atlas. Then, you can upload the resulting video file to YouTube and share the link in a Courseware Assignment. For a full tutorial on how to make anatomy and physiology lesson videos with Atlas, check out this blog post.

You can also share Views and Tours (including 3D drawings and notepad entries) with students, or have them share with the class, with Visible Body's new User Accounts feature. This blog post goes into the specifics on User Accounts and how you can use them to share 3D content!
3. Assign activities that keep students engaged and encourage them to think critically.
Just because students will be completing assignments asynchronously doesn't mean they need to passively read from the textbook or watch or listen to recorded lectures. With a little bit of creativity, students can remain engaged with what they're doing no matter where they are.
According to this webinar, a great way to encourage students to think critically is to design assignments that teach them to take notes as they go through new content. One way to do this would be to create guided notes or outlines that students can fill in as they acquire information and use as a study guide later. Professor Harley was kind enough to create some that are featured in her two-semester A&P Courseware course, which you can download for free (with a Courseware account) here.
The presenters also suggested embedding quiz questions in video content, which they demonstrated how to do with the TechSmith product Knowmia, a video creation platform for instructors. Having a video pause at key points to have students complete questions breaks up the usual pace of video-watching and helps students to take a more active approach to how they pay attention.
We've already mentioned instructor-made videos using Visible Body's apps, but students can also create presentations and/or videos to share with the class. All they need to do is create screen recordings, as detailed in the blog post we referenced earlier, or generate share links for Views and Tours. For synchronous discussion sections, many instructors who use Visible Body have suggested screen sharing Visible Body visuals using Blackboard Ultra/Collaborate, or Screencast-o-matic.
For more creative assessment ideas, check out this blog post.
Want to learn more about Visible Body Courseware and how you can use it to create engaging online courses? Contact our Education Team for an instructor trial!