What Does 2022 Have in Store for American Higher Ed?
Posted on 1/7/22 by Sarah Boudreau
If the past two years have taught us anything, it's that the future is unpredictable. The pandemic has added confusion and uncertainty and has forced many higher education institutions to rapidly change plans. For example, many colleges have recently announced that in order to adapt to the Omicron variant, they will either be delaying the start of the spring semester or moving classes temporarily virtual.
Trying to forecast higher education can feel a little like gazing into a crystal ball and hoping for the best, but we'll give it a shot. Today, let's look at trends and past data to see what might be in store for American colleges and universities in 2022.

Neutral Outcome Predicted for US Higher Education
A Fitch Ratings report released in December 2021 predicts an overall neutral outcome for the US higher education sector. The report acknowledges that federal stimulus support has helped make up for lost money due to the pandemic as schools have experienced falling enrollment and have paid for social distancing and sanitation requirements.
After more than a year of budget challenges, the report says that the majority of colleges seem in good shape. Many people working in higher education have experienced anxiety about this: The Association of American Colleges and Universities surveyed over 700 higher education professionals, and 74% responded that financial constraints were the most significant challenge facing their institution. State universities feared that their budgets would be cut at the state level, but for the majority of states, that fear did not materialize.
"The fiscal situation for states just overall is looking much better than it did at the start of the year," Andrew Smalley, a research analyst at the National Conference of State Legislatures, told Inside Higher Ed. "[This is] in large part because revenues have recovered as things have reopened and the pandemic has somewhat abated."
Fitch Ratings reports that there are still many unknown factors that can affect higher education. For example, they are unsure of what international enrollment will look like in 2022. According to the Pew Research Center, fewer than 1 million foreign students are currently enrolled in American institutions, a 15% drop over the 2019-2020 school year. With cancelled flights, border closures, and other pandemic restrictions it's been difficult to enroll students from other countries.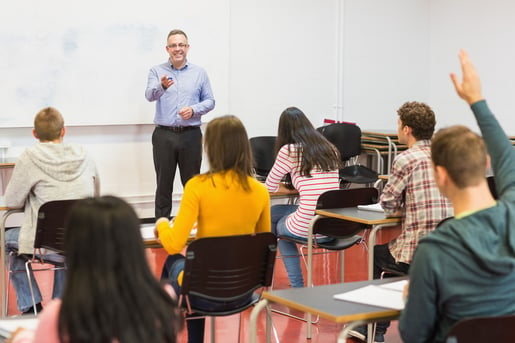 Photo from Shutterstock.


Uncertain Future for Adult Learners
During The Great Recession, people did what they do during recessions: they went back to school. During this time, enrollment grew by 3 million students, and two-year colleges saw a 33% increase in enrollment from 2006-2011.
However, the same trend has not happened during the COVID recession. For example, FAFSA applications by independent students 24 years or older were down by 9% in early 2020. The percentage of aspiring adult learners who believe education will be worth the cost has dropped by 18% since 2019.
A 2020 national poll of 17,000 adults interested in pursuing education found that aspiring adult learners are less likely to believe that higher education is worth the cost and or that it will get them a good job than they were before the pandemic.
The survey also found that two thirds of aspiring adult learners prefer nondegree pathways. The past few years has seen a surge of online learning options for adult learners. Many of these opportunities do not offer degrees but instead offer other kinds of credentials like certificates.
Traditional higher education often lacks the flexibility that adult learners need. Classes are seldom structured for people who may have to juggle work, childcare, and other obligations with their coursework. In order to retain and recruit more adult learners, colleges and universities will have to adjust their approach to appeal to this demographic moving forward.


Mobile Learning Is More Important Than Ever
As technology evolves, so does education. When the Chronicle of Higher Education recently surveyed instructors and professors, 91% said that their role required a greater understanding of technology than before.
The term mobile learning refers to the use of portable devices such as smartphones or tablets to learn and to complete assignments, and it's risen in popularity over the years alongside mobile devices. According to Pew Research Center data, 85% of Americans own a smartphone.
For example, take Duolingo, for example: the language-learning app has over 300 million users worldwide. When you have a smartphone in your pocket, learning can happen anywhere and at any time.
Students tend to use their smartphones as everything but a phone: browsing the Internet, connecting with friends over messaging apps, games, and yes, even schoolwork.
You can learn on the go with Human Anatomy Atlas—no lab required.
Many professors report that their students write essays and complete assignments on their phones, and students expect that course materials will also be available to them in the same way. In fact, the University of Central Florida found that a fifth of their total Canvas traffic was from students on smartphones.
The pandemic shifted attention away from the physical classroom. This highlighted inequality in access to technology, as many students were asked to complete their college education on smartphones or out of date laptops and their devices struggled. The past year and a half has highlighted the need for growth and resources in the area of mobile learning.


Hybrid Courses Are Here to Stay
Hybrid learning fits the needs and wants of many of today's students.
Hybrid learning refers to classes that have in-person classroom meetings but also online work. A hybrid classroom combines synchronous and asynchronous learning: asynchronous learning is more flexible and is available to students with different schedules, while synchronous learning has more opportunities for human connection and active learning. Some classes have moved to hybrid flexible learning, or hyflex, where students can decide if they want to participate in in-person, synchronous activities or online, asynchronous ones.
A 2021 survey found that 67% of students want class options that are a mix of in-person and online. More than half of the students polled said that they were more optimistic about online learning than they were before the pandemic.
"They were asking for these things prior to the pandemic: they wanted more hybrid learning, more customizable learning, they wanted high flexibility, they wanted to be asynchronous," said Dr. Corey Seemiller, professor at Wright State University and an expert on Gen Z.
She pointed out that Gen Z is very tech savvy, and they are more likely than previous generations to keep up with the online learning necessitated by the pandemic.
Learn how to engage students on and off campus with Courseware.
Instructors need new tools and skills in order to conduct hybrid courses, particularly when delivering information asynchronously. It's been a challenge for many educators to keep students engaged and to design courses that are compelling in a hybrid environment, but many students prefer its flexibility.
"The goal is not to go back to 2019, the goal is to take the best innovations we've had—and a lot of that comes from the customizability and flexibility that was instituted," said Dr. Seemiller.
---
Be sure to subscribe to the Visible Body Blog for more anatomy awesomeness!
Are you an instructor? We have award-winning 3D products and resources for your anatomy and physiology course! Learn more here.