Is Visible Body Courseware a Good Alternative to an Anatomage Table?
Posted on 1/23/20 by Laura Snider
Virtual anatomy education tools are becoming more and more popular, and there is a wide range of forms those tools can take. Many are meant to replace costly cadavers, while others serve as useful portable reference tools and study aids.
If you're evaluating which 3D anatomy education technology is right for you, you're probably wondering what the most cost-effective option is. Just how much bang do you get for your buck?
The needs of every institution are different, but we'll take a stab at answering these questions by comparing Visible Body's Courseware platform (which includes both web and mobile versions of our apps) to the Anatomage Table, a popular cadaver replacement technology. We're going to look at four key points: cost, portability, content, and user experience.
First, though, let's start off with a brief summary of the technologies we'll be comparing.
The Anatomage Table is a large touch screen device (about 7ft long) that is usually oriented like a table. Students can gather around it and use it to dissect and investigate the body systems of 4 virtual cadavers, created from scans of actual cadavers.
Visible Body's Courseware is a combination of our award-winning apps (Human Anatomy Atlas, Visible Biology, Muscle Premium, Anatomy & Physiology, and Physiology Animations) and an online platform that includes tools to create assignments using assets from the apps, a quiz creation tool, and a gradebook to track students' progress.


How much does the technology cost?
Now that we've gone over the basics, let's take a look at how much these technologies cost.
The Anatomage Table is pricey for the institution, starting at about $38K, but that is likely cheaper than using cadavers in the long run. The nice thing about the table is that it can be used in the lab semester after semester and year after year, so even though the price is pretty steep, it's a one-time deal. It should be noted that Anatomage is intended to be used alongside a traditional textbook or lab manual, which can run students upwards of $100.
A 2-year subscription for Courseware, plus permanent access to the mobile apps students download, costs around $49.99 per student. Students can pay this fee themselves, or the institution can pay for a subscription based on the number of students that will be using Courseware. Though Visible Body's apps can be used alongside a traditional textbook or lab manual, some instructors have elected to replace their textbook with Courseware entirely.

Is the technology portable?
Anatomage may provide an amazing experience within the lab, but students can't take it home.
With Visible Body, on the other hand, the mobile apps can augment a lab session by serving as a reference tool. When students are outside the lab, they can use the apps to study on the go. Instructors can also use the Courseware platforms to create multiple-choice, short-answer, and dissection quizzes that they can assign to students for a grade.
That's not all—instructors have also used Visible Body's web apps on large-sized touchscreens in their classrooms!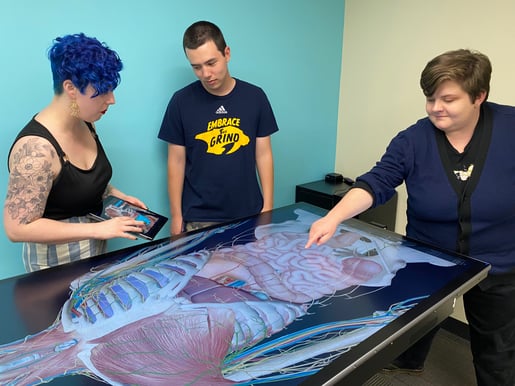 Human Anatomy Atlas on a ClearTouch interactive panel.


What kind of 3D anatomy content is available?
Both virtual anatomy tools are chock-full of 3D assets for students to explore.
First, let's check out the content features of the Anatomage table.
The Anatomage table has around 2300 structures, and there are 4 virtual cadavers to dissect—two male and two female. The 3D models are composed from scans of actual cadavers, so each one is distinct, and they have a more "photorealistic" look to them. The table also includes prosections, 1000 histology slides, 60 prosections, and 11 pathology visualizations (covering blood flow, digestion, and breathing). More than 22 animal models are also included.
Another cool thing about more clinically-oriented versions of the Anatomage table is that they can display patient imaging data, such as CT scans.
The Anatomage table does have several quizzing features, including flashcards, multiple-choice and dissect and find questions, and a competitive mode for two participants. However, there isn't a way to integrate these grades into homework assignments or graded quizzes—they are purely for in-class or in-lab activities.
Now let's talk about Courseware.
All told, the apps included in Courseware feature around 6000 structures. In Human Anatomy Atlas, complete male and female 3D models designed by medical illustrators and animators can be fully manipulated, from zooming and rotating to fading out and dissecting away individual structures or groups of structures. Users can save their favorite views as notecards and combine them with others to make custom 3D tours. Human Anatomy Atlas contains 126 full color histology slides and several CT scan images alongside cross-section models of the head and torso. In addition, both Muscle Premium and Human Anatomy Atlas contain views with moving 3D models depicting muscle actions.
The Anatomy & Physiology app is a visual guided tour through each body system, and contains more than 500 preset views of 3D models, 150+ illustrations and animations, and hundreds of multiple-choice and dissection quiz questions. All in all, A&P covers more than 100 physiology concepts.
The Physiology Animations app contains animations detailing key physiological processes and common pathologies.
What's more, both the apps and the Courseware platform itself contain multiple-choice and dissection quizzes. Quizzes on the Courseware platform can be integrated into a course's assignments either as homework or quiz grades via the Gradebook feature. Grades from the Gradebook can be exported to LMSs such as Blackboard, Canvas, and Moodle, and Courseware can be integrated into Canvas.
Dissection quizzes in Human Anatomy Atlas.
Instructors can even use Courseware's quiz and question bank tools to create their own custom quiz content!


What is the user experience like?
The Anatomage table is good for dissection, but not so much for studying. Structures can be explored via sliders—as the user moves the sliders, different layers are added or removed from the image on the screen. The table has a slicing tool which allows the user to make a cut at a particular angle in a 3D model. In addition, there is a tool that allows users to make an incision of a particular shape and dissect away the piece of the topmost visual layer associated with that incision. This provides the opportunity to view the models and see the structures (or parts of structures) from a variety of perspectives.
When it comes to studying potential, the structures in the Anatomage models have labels, but that's about it in terms of information on the screen.
In Visible Body's apps, information about each structure is integrated seamlessly into the virtual dissection experience, making it easy to study while exploring the 3D models. Selecting a structure in any 3D model view will open up an info box that contains a wealth of information—a definition of the selected structure, a pronunciation for its name, the Latin version of its name, and pathologies it's involved in. Related structures can also be viewed via the "breadcrumb trail" at the top of the info box.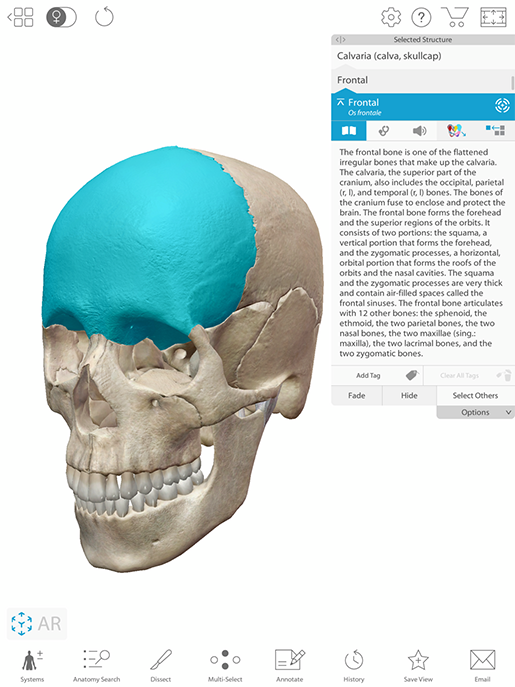 The info box in Human Anatomy Atlas.
Details on bony landmarks, muscle attachments, muscle actions, blood supply, and innervation are also accessible from the info box (depending on the structure in question).
When it comes to simulating a dissection, Human Anatomy Atlas has a Gross Anatomy Lab mode that allows users to work through a dissection by selecting particular structures or systems to remove (or add back in, or fade away). In GAL mode, students can switch between prone and supine models. As always, they can toggle between a male and female model as well.
Additionally, Atlas' AR feature lets you turn any surface into a dissection table, using the camera on a mobile device to bring the 3D models into the real world. The great thing about the AR tool is that it can be used anywhere—the lab, the classroom, the library, or a student's own desk at home or in the dorm.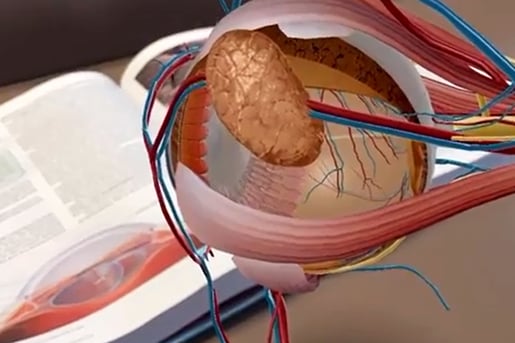 An AR view of the eye microanatomy model from Human Anatomy Atlas.
The contrast between the user experiences of the Anatomage table and Courseware shows us that the table offers a cadaver replacement but still necessitates the use of a textbook, while Courseware can replace a textbook and serve as a study tool to enhance a traditional cadaver dissection lab experience.


Conclusion
Ultimately, the key difference between the Anatomage Table and Courseware is how you want your students to use 3D anatomy technology.
Travis M. Price, Associate Professor in Health Sciences at Weber State University, recently let us know how Visible Body and Anatomage compared for his students:
"I have been really pleased with what Visible Body has done for our students, especially during the pandemic. We are planning for a mostly normal fall semester, so I am excited to get the apps working on our iPads and to help guide students through learning with them. I spoke with a professor from another university about purchasing an Anatomage table and I had to tell him that I was excited about our VB and iPad stations as I am about our $70,000 Anatomage table."
If you'd like a virtual dissection tool that replaces cadavers in the lab at your institution, or if your institution is looking to create an all-virtual dissection lab, the Anatomage Table might be what you're looking for simply by the nature of the product.
Courseware is the best choice for instructors who want to augment their students' cadaver dissection experience with a 3D anatomy reference and study resource, as well as tools for creating assignments. If you want to supplement or replace your textbooks and lab manuals and use them alongside traditional lab materials, such as cadavers and prosections, Courseware is the more cost-effective option.
---
Be sure to subscribe to the Visible Body Blog for more anatomy awesomeness!
Are you an instructor? We have award-winning 3D products and resources for your anatomy and physiology course! Learn more here.