Going to med school? The president of Northeastern University's American Medical Women's Association has some advice for you
Posted on 4/26/19 by Madison Oppenheim
Recently I had the opportunity to interview Kayla Meyer, a graduating senior at Northeastern University. She's a candidate for a Bachelor's of Science in Biology with Honors, pursuing medical school post-graduation. I met Kayla through Northeastern's chapter of AMWA: The American Medical Women's Association, where she's the current President.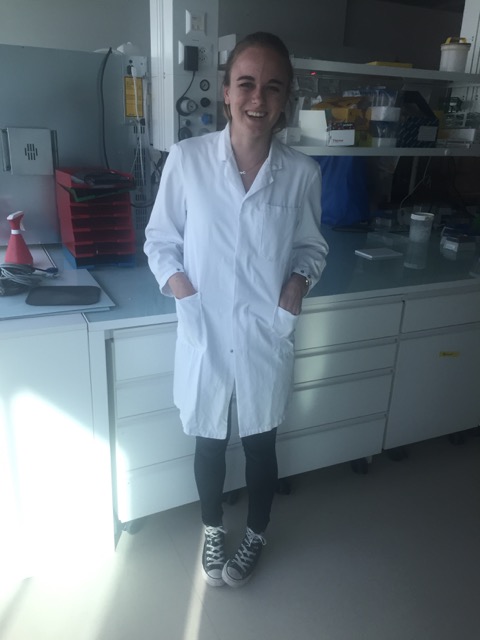 You're well on your way to medical school. Can you tell us what your academic journey has been like?
To give a basic outline of my academic journey at Northeastern, I'll outline briefly each year. My freshman year I took general science classes and electives, and mainly just got used to college. My sophomore year started to get a bit tougher. Then I did my first co-op in Switzerland with the pharma company Novartis where I was in an immuno-oncology lab. My third year was definitely super-hard. The spring of that year I went on my second co-op at Brigham and Women's Hospital as a Clinical Research Coordinator in the Division of Endocrinology, Diabetes, and Hypertension Research. I've been back in classes for my entire fourth year!
What classes did you find most useful in terms of MCAT prep or just general medical school readiness? Did you have any extremely tough classes?
The most useful classes for MCAT prep, in my opinion, were definitely Biochemistry and Physics. I think most people, by the time they take the MCAT, have a pretty decent grasp on the biology material (and if not, it's the most fun to review, since that's predominantly what we all care about). Biochemistry is just difficult, and having that class right before I took the MCAT was so helpful.
Some sort of philosophy or economics class is very helpful for the MCAT! The CARS (Critical Analysis and Reading Skills) section will give you all sorts of passages—from philosophy to art history to literature. The more familiar you are with different types of genres and how to analyze them, the more smoothly that section will go. I felt very fortunate that my own personal interests led me to study ethics, because it helped SO much in feeling prepared for that reading and analysis section.
In terms of more medical school readiness, I'm super happy I took Anatomy & Physiology as an elective this semester. It's made me more excited to study medicine and learn about the body, and I'm hoping it will be useful to have some sort of basic anatomy memorization heading into medical school.
How was studying and taking the MCAT? What did you do to prepare for it? Which study methods helped you the most? What tips can you offer other students who haven't yet taken the MCAT?
I ended up taking the MCAT twice. The first time I took a (Kaplan) course during the fall of my third year, while I was also taking a heavy course load. I then tried to cram hardcore during my holiday break at the end of December, and also in the beginning of my co-op at BWH.
I took the MCAT the first time at the end of January. The Kaplan course was definitely helpful to practice tools for test-taking, and I think it would have been WAY more effective for me if I had taken it at a time when I was less overloaded. I put off my Kaplan homework because I had so much to do for my other classes, and then falling behind in MCAT prep stressed me out more and it was just a spiral downhill.
I ended up doing okay the first time. I was right on the cusp of not doing well enough to be confident, but also not doing poorly enough where it's a no-brainer to take it again.
Is there anything you wish you had done differently?
I was really bummed because I wished I had just postponed my test date a couple more months. My big recommendation for people is DO NOT take the exam if you don't feel confident. It is almost always better to push it another month or two. Your confidence and mental readiness is so huge when going into the test.
I would highly, highly recommend taking the MCAT sometime in the summer when you have some downtime to do some heavy studying without feeling like you're slacking in other areas of your life.
The second time, I ended up doing super-well and I think it had a lot more to do with my overall confidence and preparedness. I had more time to do in-depth content review (which I definitely did not do enough of the first time), and I could take section tests more frequently. Once you get to the point in your studying where you've gone through most of the content and are using practice questions to guide your review, that's when you know you're getting close to being ready.
You're the president of the Northeastern University Chapter of the American Medical Women's Association. What other extracurriculars or opportunities did you seek out, in order to make yourself stand out against other applicants?
I started volunteering as a freshman with the Medical Career Exploration Program at BWH. I ended up doing 80 hours with the Central Transport and Patient Access areas and then was placed in the Kraft Family Blood Donor Center, which I absolutely loved! I still volunteer there every week even though I'm technically finished with the program.
I also am a peer tutor for both Physics for Life Sciences 1 and 2, which I also love! It's really fun to get to know all my tutees and it's great to see them all do well! For more mentoring opportunities, I also served as a Student Ambassador for the Global Experience Office and the NUin Program.
I also think staying healthy, mentally and physically, is very important! So I also try to make it to the gym a few times a week, I read a lot, have started to learn how to cook, and remain social with friends! I think a lot of pre-med students get very caught up in trying to stand out from other applicants. I'm very much like that as well, where I want to do well and there is an inevitable competitiveness that comes with that. However, I've tried to let myself fade away from that mentality and grow into a more healthy mindset.
It's really important to choose extracurriculars that make you happy and that you care about, regardless of how they will (or if they will) appear on your medical school application.
How has technology aided you along your journey to medical school? Where do you see it going in the future in terms of both medical school and the professional health world?
I unfortunately have not had the opportunity to use any sort of advanced technology along my journey thus far, but I have had to learn how to use some data collection system and analysis tools which have definitely helped! It's crazy the things you can ask your computer to do for you, and I've found that I really enjoy learning advanced analysis programs and solving problems using a computer/technology.
There are definitely so many things technology can help with in the professional world, such as virtual cadaver labs, tools to demonstrate more clearly to patients, more advanced and effective electronic medical records, etc.
Technology is our future, and while I'm not an expert in it I'm excited to see where it goes.
Have you used 3D technology to help visualize anatomy and/or physiology?
I actually haven't used any 3D technology to help visualize things. I didn't know it was available! I wish I had a chance to try it, although I'm sure I will in medical school.
Any last advice for students thinking about a career in medicine?
Start thinking about if you seriously want to pursue medicine early, and reach out to anyone and everyone you can! I really wish I had taken more advantage of my professors and professional connections a lot earlier to ask them about their journeys and their advice for pursuing medicine. People who have done it before you and who are already in the professional world have so much wisdom and interesting input to give, and I wish I was bold enough to realize that and act on it early!
It is also extremely stressful to pursue medicine. Always remember to stay healthy!! Don't get lost in the competitiveness of everyone applying with you. You could always be adding more to your plate, but what's more important is reflecting on what you are doing and being the best at whatever it is. Quality not quantity. You can do it!!
---
A huge thank you to Kayla Meyer for sharing her academic journey with us; her schedule is jam-packed but she still made time for this interview! I wish her well in medical school and can't wait to hear all about it!
Are you off to med school? Chances are, you'll be using 3D technology at some point during your studies and clinicals! Get ahead of the game by checking out our 3D suite of apps.