3D-ifying Distance Education Courses: Using 3D Anatomy in Online Classes
Posted on 12/19/18 by Courtney Smith
Does your school already have students enrolled in online anatomy courses? If not, they might very soon! The education landscape is shifting, giving rise to an enrollment increase in online courses. According to a U.S. Department of Education report, by 2016 over 31 percent of students at higher education institutions in the U.S. had taken at least one "distance education" course.
The enrollment numbers for online courses are expected to keep growing. The Babson Survey Research Group tracked a 17.2 percent increase in online enrollment at universities between 2012 and 2016—despite overall enrollment actually having decreased.
Today's students are going online for education and that can change the type of learning materials and content instructors use as teaching tools. A recent Barnes and Noble College report, Exploring Middle and High Schoolers' Expectations for Higher Education, notes that students expect engaging and interactive technology and learning tools that are accessible and can be used at any time. Our Visible Body products offer this type of learning experience for human anatomy and physiology courses.
If you are looking to teach an online anatomy course for the first time, or looking for materials to increase students' engagement, we've pulled together five ways instructors can try out our visual and interactive human body models, animations, illustrations and quizzing system to teach anatomy online!
5 IDEAS FOR USING 3D EDUCATION TECHNOLOGY TO TEACH AN ANATOMY ONLINE COURSE
1. Pick one concept and try teaching it using virtual anatomy models and animations
Our Anatomy & Physiology product is set up to help students learn big-picture anatomy and function concepts by working through specific learning objectives. For example, the app has 34 learning objectives for the respiratory system that are presented in 47 micro-lessons that students can work through. These micro-lessons use interactive 3D anatomical models for students to learn structures by rotating, zooming into, and dissecting the model while they access detailed definitions and pronunciations. The lessons also include brief animations that use visuals and narration to present complex physiology concisely. By working through the lessons in Anatomy & Physiology, students get a hands-on experience in learning the structures in each body system and their associated physiological processes.
Let's get more granular.
Respiration and olfaction are concepts often taught in a first-year A&P course. One of the many learning objectives in Anatomy & Physiology is to "Describe the process of olfaction." The anatomy related to olfaction is presented in a collection of 3D models in Lesson 35.12 and the physiological process of olfaction is presented in Lesson 35.11.
If you choose this concept to try teaching online, you can assign it to students to review as homework and then use it in class lecture and discussion. Have students work with Lesson 35.12 to understand how neurons carry olfactory signals. They can use the virtual dissection features to hide the sphenoid so it won't get in the way of the view, then zoom in and fade the ethmoid to show how the branches of the olfactory nerves pass through the numerous foramina of the cribriform plate.
Anatomy & Physiology is a visually stunning, step-by-step introduction to each human body system.

2. Try an online dissection lab activity
One might think that an online course, particularly an anatomy course, wouldn't allow for a lab experience since students could be logging in from anywhere. But that isn't so—you can absolutely teach an anatomy lab online!
The great thing about virtual 3D anatomy models is that instructors can use them to create activities outside of a lab that simulate the interactivity of a dissection lab—no physical lab, gloves, or clean-up necessary.
For instructors who want to simulate a cadaver lab online, Human Anatomy Atlas includes a virtual Gross Anatomy Lab (GAL) section. Students can access a 3D model cadaver (male or female) in either the prone or supine position, and dissect structures to see them in context or isolate them completely.

Using GAL in Human Anatomy Atlas.
For instructors interested in converting a specimen-based lab (like a dissection of a sheep brain or a cow eyeball) into a virtual lab, Human Anatomy Atlas includes specific 3D model sets that match common specimen labs taught in undergraduate anatomy labs. You can find these activities in the quiz section on the main menu page. And to cut down on the work instructors have to do to use 3D virtual models for dissections, we have tons of free lab activities and lesson/presentation ideas on our website.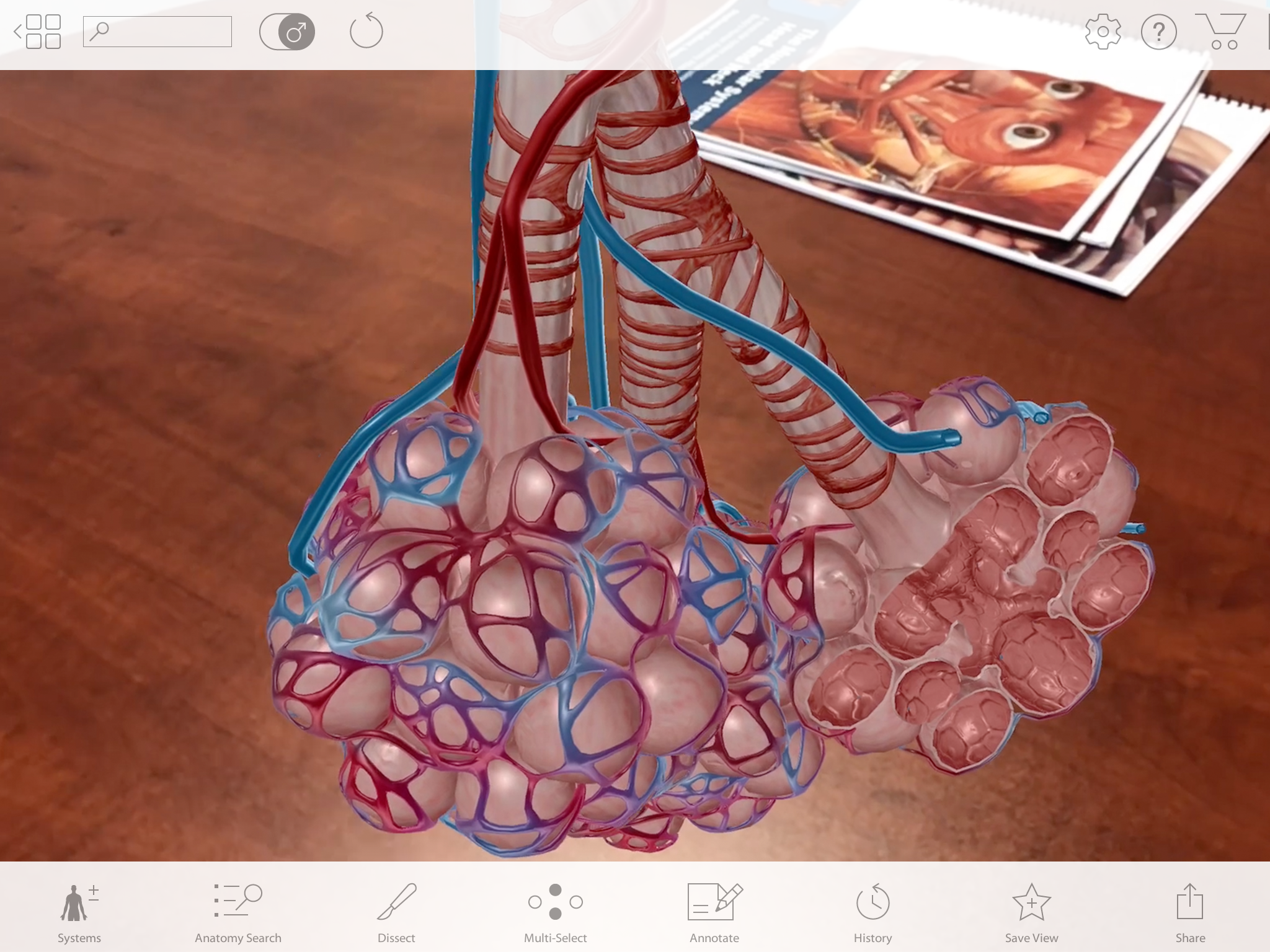 Augmented reality can turn any flat surface into a dissection table.
When students do not have access to an on-campus lab with plastic models or specimens, GAL and the smaller specimen lab activities are a great alternative to physically being in a lab space. The 3D anatomy models in both these lab options can be dissected on-screen, or if students have AR-ready capable mobile devices the models can be dissected in augmented reality!
Learn more about Human Anatomy Atlas and the platforms for which it's available.
3. Try lecturing using online models and brief animations
You don't need to reinvent the wheel. With 3D learning, you can reinvigorate it! For example, Molli Crenshaw of Texas Christian University uses 3D models and animations to lecture about the lower respiratory system to her students. Try that for a lesson instead of presentation slides or having students gather around a plastic model or specimen.

Blythe Nilson of the University of British Columbia explains how she was able to communicate more in less time using 3D anatomy animations. Her students really understood tough topics like internal respiration because the animations were able to show gas molecules binding to hemoglobin inside the red blood cells—something that textbook images can't quite convey.
4. Give interactive 3D quizzing a try
Of course, when it comes to demonstrating knowledge, testing students on the material taught is tried and true, and asking students to name the structures pinned on a lab specimen is a very common anatomy lab exam. The team here spent a lot of time transforming that experience so students could practice at home for in-lab exams and so instructors could assign online dissection quizzes that report straight to a gradebook.
You can try out the pre-made dissection quizzes in our Human Anatomy Atlas, Anatomy and Physiology and Muscle Premium products. Those quizzes are available to students to test their learning and include pre-made quizzes for the structures commonly taught in an anatomy course.
If you want to assign pre-made dissection quizzes, make your own, and track student performance to a gradebook, try Visible Body Courseware (contact the Education Team for a free instructor trial of any of our 3D apps).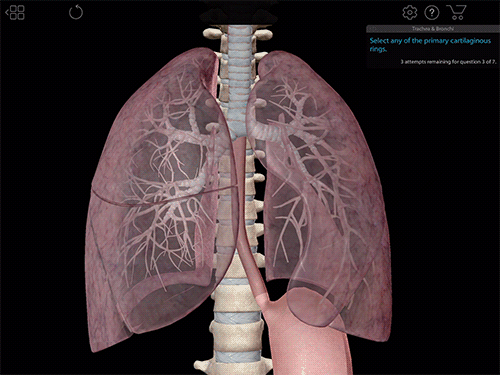 Ask us how!
Our Education Team loves to talk about how you can effectively conduct online courses with the help of 3D education tech; they'll walk you through transforming your classes with quick demos, and you'll even get a free instructor trial out of the deal to try it for yourself!
Contact the Education Team for a free instructor trial or demo.