A Stroke Is No Joke: Always Act FAST
Posted on 7/8/15 by Courtney Smith
I'm about to get a bit personal here, so hold onto your butts.
When I was 14, my friend took me to her aunt's house so we could swim in her pool. Her aunt was always so cool—super funny and smart, with elegant streaks of gray in her long hair—and I was happy to go. We swam for a while until her aunt called us in to help make lunch. My friend wanted melon balls to go with our salads and sandwiches, so we spent about 10 minutes mechanically scooping out little pink globules into porcelain dishes.
Then, my friend's aunt paused. I'll never forget the sound she made, a little boof of confusion, the noise a dog makes when it's not committed to growling but musters up the effort. She frowned at the half-filled dish in front of her. From across the counter, I watched—horrified, rapt—as one side of her face kind of … melted. The hand holding the melon scoop twitched, as if she meant to lift it, and she began to mumble things I couldn't understand. My friend immediately went to her side and helped her to the floor as she began to fall, and I called 9-1-1.
As the EMTs loaded my friend's aunt into the ambulance, one of them came over and helped my friend call her mom. The EMT spoke to her mother and said calmly, "It was a stroke, ma'am. We're taking her to Whidden Hospital; your daughter and her friend are going to ride with us. Can you meet us there?"
It was honestly one of the most terrifying experiences of my life up to that point; I can't imagine what my friend's aunt was feeling.
Pardon the rhyme, but a stroke is no joke. But what is a stroke, and why is it so important to act FAST when one occurs? Keep reading to find out.
STROKE: KINDS & CAUSES
While her aunt recovered, my friend would tell our curious and sympathetic classmates, "My aunt had a stroke." And immediately that would shut them up. It was as if the stark, one-syllable word were an expletive, a harbinger whose wrath no one wanted to incur.
The thing is, there are different types of stroke, and those different types have different causes. They happen for a variety of reasons and they're associated with as many risk factors.

Ischemic Stroke
My friend's aunt had an ischemic stroke, which is the most common kind—in fact, 85% of strokes are ischemic. An ischemic stroke is caused when the blood supply to the brain is reduced (also called "ischemia"). Reduced blood flow to the brain causes cell death, which is as bad as it sounds.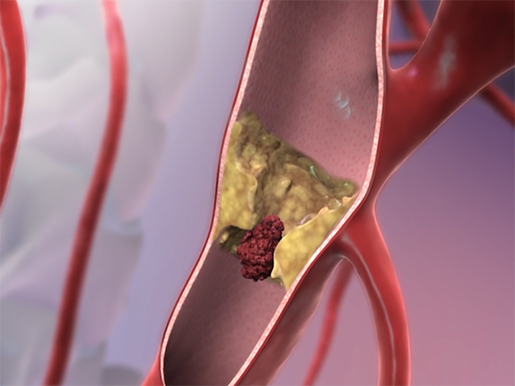 A clot forms in a blocked artery. Image captured from Physiology Animations.
The most common types:
Thrombotic ischemic stroke: A blood clot, or thrombus, forms in one of the brain arteries due to a build-up of plaque or other vascular conditions, and blocks the artery. This blockage causes reduced blood flow to the brain.
Embolic ischemic stroke: A blood clot forms elsewhere in the body (like the heart) and travels to the arteries of the brain, where it becomes lodged in a narrow vessel. This type of clot is called an embolus.
There is also something called a transient ischemic attack (TIA), which is a bit like a mini stroke. A blood clot forms and blocks an artery like in an ischemic stroke, but the blockage is temporary. Before the clot is able to move, it briefly reduces the blood supply to the brain. The symptoms of a TIA and a full ischemic stroke are similar, but brief, but a TIA greatly increases a person's risk for a full-blown stroke.

Hemorrhagic Stroke
On the other side of the stroke spectrum are hemorrhagic strokes, in which a blood vessel in the brain ruptures or leaks. This can happen for a bunch of reasons, including hypertension, overmedicating with anticoagulants, and aneurysms.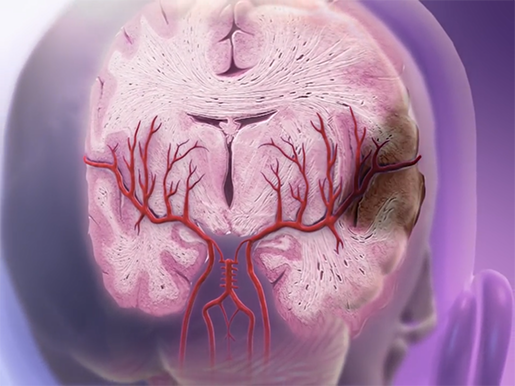 A brain vessel ruptures. Image captured from Physiology Animations.
There are two types:
Subarachnoid hemorrhagic stroke: A vessel in the brain bursts, causing blood to leak into the space between the brain and skull. When this occurs, it's usually followed by an immediate, unbearable headache.
Intracerebral hemorrhagic stroke: A vessel in the brain bursts and spills blood into the brain tissue, causing cell damage or death.

RISK FACTORS & COMPLICATIONS
I mentioned above that there are many contributing factors to stroke. Well, I wasn't kidding. Risk factors associated with stroke range from family history, lifestyle, and present medical conditions.
Obesity, smoking, alcohol abuse, and drug use are all treatable risks for stroke. Conditions like hypertension (high blood pressure), diabetes, high cholesterol, and cardiovascular disease all contribute to stroke risk.
Those with a family history of stroke or heart attack are more likely to suffer a stroke than those without. Age and gender also play a part. People over the age of 55 have a higher risk. Men tend to suffer strokes more than women, but women—particularly older women—tend to die from them more than men.
Suffering a stroke can cause long-lasting, even permanent complications. Luckily, my friend's aunt was able to get away with memory loss of the incident and some speech difficulties, but others don't come away from it so easily.
As I said, memory loss is one complication, but more severe ones include paralysis, pain or numbness, aphasia (or difficulty with speaking or understanding speech), and changes in behavior.
ACT F.A.S.T.
I remember seeing a poster about "Acting F. A. S. T." in the hospital room my friend's aunt recovered in, and since then I've never forgotten it. F. A. S. T. is an acronym for the warning signs of a stroke—I highly recommend you learn it.
Face drooping: During a stroke, the face can go numb or even droop. The person may have difficulty smiling or his or her smile may be uneven.
Arm weakness: One arm may go weak or numb. In this case, ask the person to lift both arms. If one arm drifts downward beyond his or her control it could be a sign of stroke.
Speech difficulty: A person suffering a stroke may slur words or be hard to understand. Ask the person to say a simple sentence, like, "The birds are singing." If he or she can't, it may be a sign of stroke.
Time to call 9-1-1: If you suspect someone is suffering a stroke, you need to call 9-1-1 right away, even if the symptoms disappear. Remember, a TIA's symptoms are temporary; if someone suffers a TIA, their risk for a full-blown stroke increases exponentially.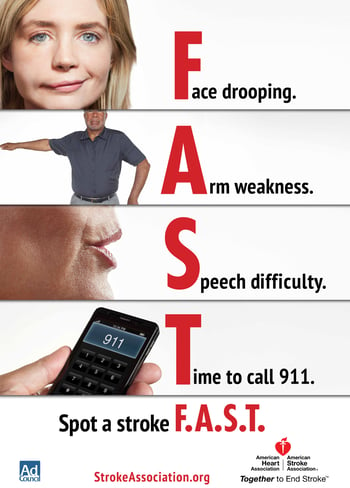 F.A.S.T. poster, courtesy of the American Stroke Association
For those of you wondering, my friend's aunt made a full recovery. She still has no memory of the event, but that's okay: I remember it enough for the both of us.
A stroke is no joke. If you suspect someone is having one, remember to act FAST (emphasis on the T).
---
Be sure to subscribe to the Visible Body Blog for more anatomy awesomeness!
Are you a professor (or know someone who is)? We have awesome visuals and resources for your anatomy and physiology course! Learn more here.


Related Posts:
Additional Sources:

Topics